Gifts, giveaways, promotional products, swag. Whatever you call it, we've got the largest collection of brandable items ever in the history of pc/nametag. And, as any savvy planner knows, branded swag is an easy, effective way to send your logo home with attendees. Stefanie McGinnis is the hardworking product manager pulling this diversified collection together behind the scenes.
"Basically, my job is to be an expert on all the finer points of promotional products from big trends to technical specs, and then curate a collection of can't miss items that will suit any event, any meeting, any time" she says.
Or, put more simply, to sweat the details so you don't have to.
And that's exactly what she's done this past year while pulling together our largest-ever selection of promotional products – over 500 and counting. pc/nametag is your one-stop source for every item you need.


Upping the ante for swag.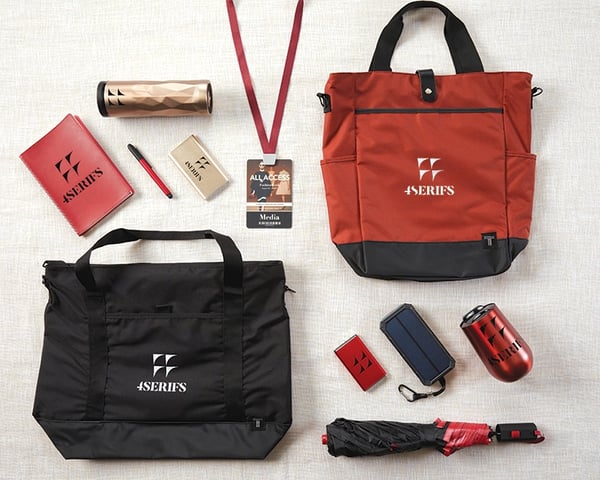 "We know exactly why event planners turn to us for name tags," says Stefanie. "And what we've done for name tags from our expert consultation, simple ordering process and customized service is what we knew needed to be done with promotional products."
Stefanie admits that the competition for meeting swag is ramping up. "Pens and pencils are nice," she says, "But customers are telling us it's taking more and more to guarantee an attendee remembers their company after they get back to the office."
According to Stefanie, that's created a swag arms race of sorts in some industries with companies trying to outdo each other with some over-the-top ideas. "But for us," she says, "what it really comes down to is helping our planners choose the most useful and memorable items for any venue."


Products for every persona, the perfect pick for any attendee.


"We select items with real function for attendees and that give a high perceived value for the setting no matter what price point it sits at," explains Stefanie. "A golf tee caddie can be the perfect add-on for a convention held in Pebble Beach, while an umbrella can be the single most useful gift handed out at a sales meeting in Seattle.
"We know every one of these products has to be an item attendees would love getting," she says. "So we follow the trends and we've looked ahead to the newest innovations to select the items we know guests will go home using. Because if they use it, they'll see your brand every time they do."


Raise a toast to the perfect drinkware.



And of course, the humble water bottle is no longer so humble. "The drinkware market has exploded with incredible opportunities," says Stefanie. "And we've been able to grab the best options from vacuum-insulated bottles and travel glasses to tumblers and mugs."


A tech revolution for your promotional products.
For those times when you need a truly memorable giveaway, Stefanie has stacked up a Silicon Valley's worth of tech-savvy items. From ear buds and programmable smart plugs, to power banks and wireless chargers, tech promos are really taking off. And, because pc/nametag's done the research, you don't have to be a tech guru to capitalize on this opportunity.


A great collection? It's in the bag!



Stefanie is especially proud of the new bags we offer. "Of course we have simple grab bags for handy show giveaway use," she says. "But we've also got some really sleek, stylish bags and backpacks with sophisticated lines and a sharp European palette. It's an opportunity to give your brand a premium look – at a surprisingly low price."


Putting it all together – gift sets tailored and personalized for you.
We can even put together an entire promotional product packet tailored to your meeting. And Stefanie is quick to point out an example of that. "We had a company event happening up at a water park and they wanted a goodie bag of perfectly branded products. Each product had a function for the location and usefulness back home: a towel in the company color, matching bottle, sunglasses and a logoed bag that was sized to hold the gifts plus each attendee's personal items for the day," she said. "By working directly with us as the single source, we could make sure every item was the perfect match."


Custom challenge? Accepted!
Stefanie's infectious enthusiasm carries over to the entire pc/nametag team. "We love answering that challenging situation," she says. "And whether it's a custom item we need to source just for you, or the deadline is tight, or the theme has just changed, we're ready to step up to the challenge."


Making your brand look good. Making you look good.
So no matter what product you want to send home, and no matter what brand message you want to transmit, we promise our product will make you look better than you ever imagined it could – and with less hassle and trouble than you ever thought possible. "After all," says Stefanie with a smile, "That's why you turned to pc/nametag, in the first place right?"


Loads of promos!