When is a lanyard more than a lanyard? We believe when it's designed from the ground up to do more than just its basic function. It should also please the eye and create a more artful framing for what matters most for networking – the name tag.
The story behind our new Pillar™ Lanyard is a testament to product manager Karen Pollack's constant drive to make every product she touches as beautiful as it is functional.
An outsider's eye, an insider's pa
ssion

.


Spending a career in product development outside of the name tag industry meant Karen came to pc/nametag with a total outsider's view. "Sometimes it's refreshing to be the new person, because you get to ask the 'why' questions. And that means you can come up with new approaches." But Karen is quick to point out experience is always the best teacher. "Then when you're asking the question of seasoned pros who have been around the block, they have insight and institutional knowledge that lets you tackle the problem with the perfect blend of fresh eyes and seasoned reasoning. That's what we did with the Pillar."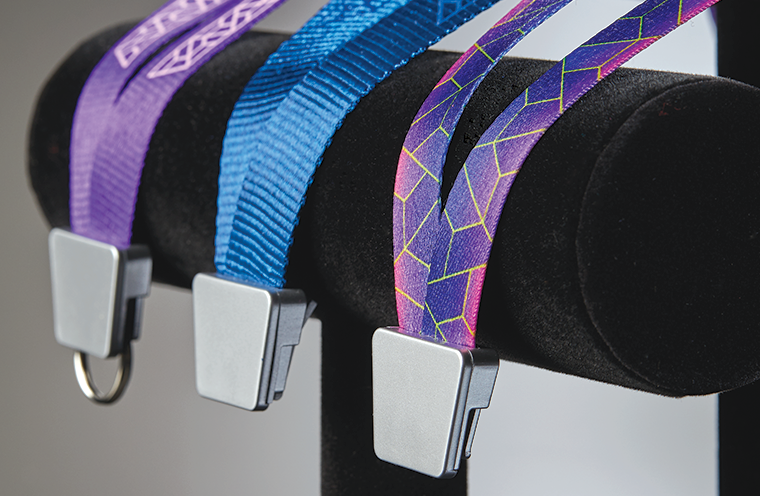 The solution you asked for.

"In our surveys and focus groups, twisting is the #1 problem meeting planners cite. In fact, 70% of meeting planners listed it as their #1 problem," says Karen. "So the first item of business was a technical solve to that problem. Our No-Twist Clip™ Lanyards introduced in 2017 did that, and they were very well received for convention and trade show use."
But while the No-Twist Clip delivered on the problem, Karen's personal design mantra "Make it functional. Make it beautiful." just kept sounding in her mind. "Once we had solved the flip, I knew there was a huge opportunity if we could solve the problem elegantly."


The road to perfection.

As Karen often does with a problem like this, she sat down and started sketching ideas. "Because I was fresh off the No-Twist Clip, designing the ideas came pretty easily," Karen told us. The unique, tapered shape balances and stabilizes the lanyard to prevent twisting and most important to Karen, "The end result is a beautiful faceted look that both men and women find pleasing," says Karen.
"The faceted design also serves another very practical purpose," says, Karen. "The rounded corners mean your lanyard won't snag on clothes. We even rounded off the back edges to make it as absolutely snag resistant as possible."
And the faceted design also elegantly incorporates the three most popular attachment options: universal, bulldog and key ring.
| | | |
| --- | --- | --- |
| Universal | Bulldog Clip | Key Ring |
Even better, the Pillar is also available in printable options in durable nylon and ultra-soft polyester in a myriad of stock colors plus a full-color, dye-sublimated polyester for brilliant custom imprint options.


Natural flow for maximum name tag impact.

Karen is keenly aware of this lanyard's main purpose: making your name tag look it's very best. "The age-old problem with lanyards is that all that hardware above the name tag gets, well, dangly, for lack of a better technical term," says Karen. But instead of distracting visual clutter above the name tag due to all the hardware, the Pillar creates an eye-pleasing flow and symmetry. "It really draws the eye right to the name tag design," says Karen. Just how good is the effect? "Several of our testers commented that it looked more like jewelry than a tradeshow lanyard!"
Beauty that lasts – for all the right business reasons.

It's no secret meeting attendees love lanyards and continue using them long after the meeting ends, but the Pillar's extra visual appeal adds to this value. Karen explains, "With the Pillar, the premium look and feel is so much more impactful, it will quickly replace the other lanyards they are using and become their go-to lanyard -- and that keeps your logo front and center in their mind long after the meeting," says Karen.
An inspired design –
designed to inspire you.

"My personal philosophy has always been that function is good, but function with eye-pleasing design is the ideal," says Karen. She is always on the lookout for that standard in the world around her. "It sets you at ease, elevates your own creativity and inspires you to be at your best," she says. "I think the world would be so much more enjoyable if everyone shared that same philosophy. But at least I can make my part of the world more pleasing -- one lanyard at a time!"
Got a meeting you'd like to make all the more visually appealing? Check out a Pillar™ Lanyard now!