A lanyard's job is to support a name badge and offer the added perk of imprint space for long-lasting brand exposure. But it can also moonlight as attractive jewelry, categorize with colorful neon lights or convert into a tape measure -- its possible transformations are limitless!
However, this latest lanyard has the dual power of connecting people at an event and recharging the most socially active one there: your phone.
The Get Connected Lanyard, launched by pc/nametag this past January, is a tech-savvy lifesaver for attendees. As we all know, social sharing at events drains your smartphone, and there's nothing worse than entering the exhibition hall with 4% left on your phone and your charger several floors above in your hotel room. With a Get Connected lanyard, all you need to do is remove the lanyard from around your neck, plug one end into a power source and the other into your phone and recharge.


Who better to inspire fans than Lady Gaga?

Professional Convention Management Association (PCMA) caught wind of Lady Gaga providing this phone-charging lanyard to VIP ticket holders during a recent tour and it was a smash hit. Even famous director Judd Apatow was spotted recently on Instagram sporting one at a charity benefit in L.A.
PCMA's sponsorship team came to us asking if we would supply the lanyard for their registered meeting professionals and suppliers at its flagship event, Convening Leaders 2018 in Nashville, TN. They wanted their attendees to try out this new technology and then offer the same tool for their own audiences. "It was a huge hit again, and the rest is history!" says Karen, our lanyard product manager.
"After PCMA, early adopting customers caught on quick, and we're receiving orders for all kinds of events -- everything from 100 units for a high school class reunion to as many as 40,000 for a non-profit education conference," she explains.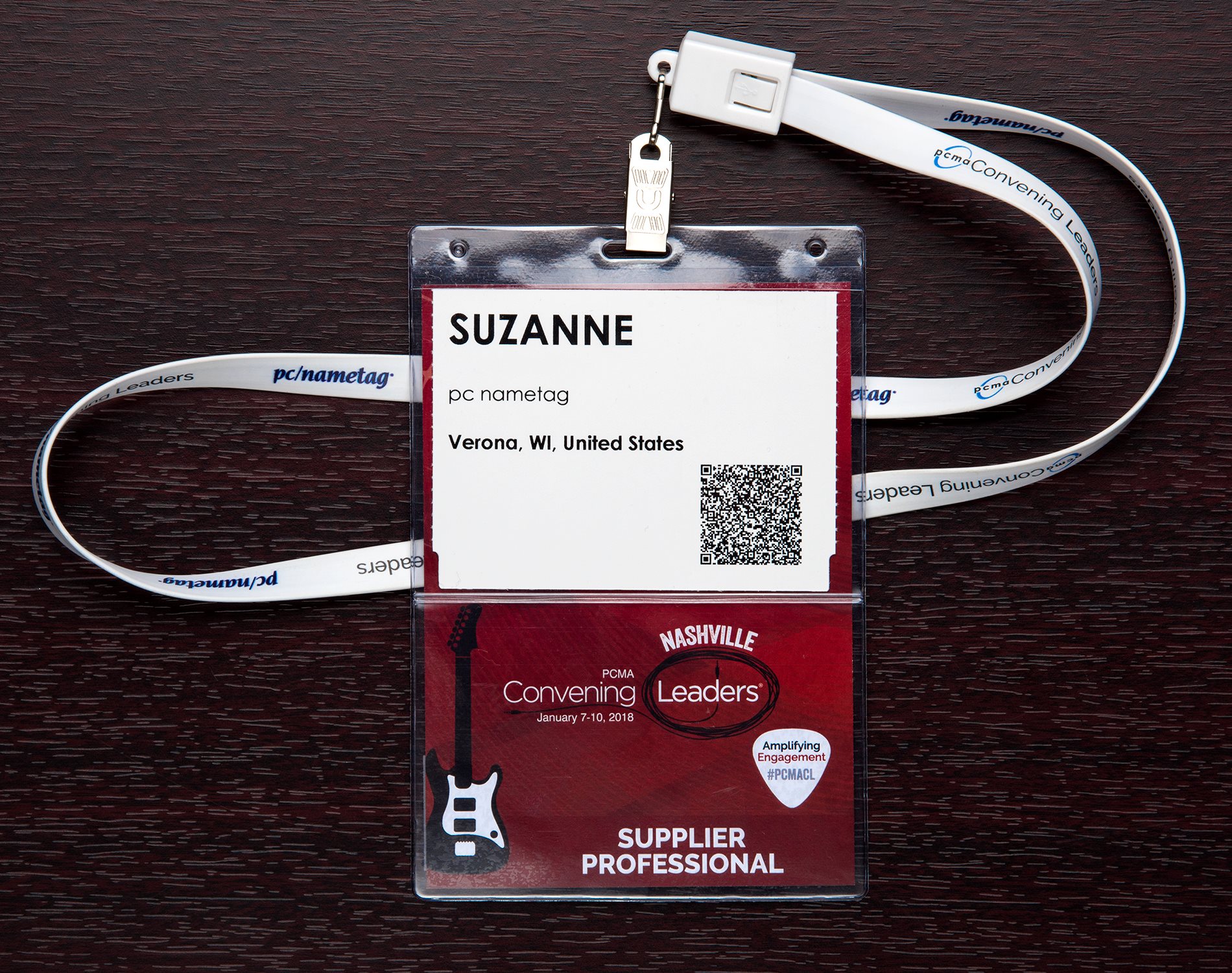 To clarify: it's a charging cable, not a power bank.

Get Connected Lanyards work with iPhones or Androids: Just plug one end into your phone and the other into your computer, car, or power bank, anything with a USB port for its necessary charging. While the one end of the lanyard is a USB connector, the other is a "flip it" connector for use with iPhones (marked iOS) on one side and Androids (marked Micro) on the other.
When the charging cable turns back into a lanyard, both ends are encased in a secure plastic box from which hangs the attachment. When it's time to charge again, simply pinch in both sides of box to release the ends, connecting one to a power source and the other to your phone.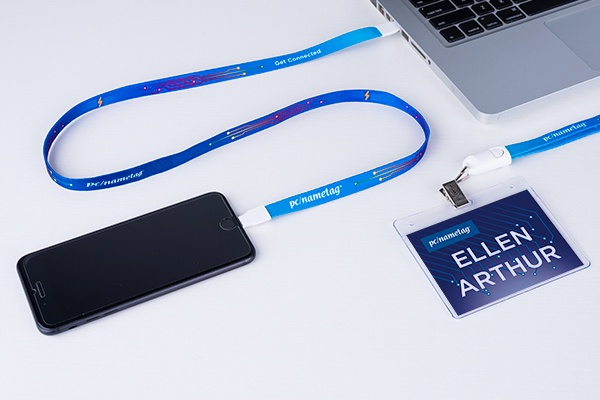 Connecting face-to-face and phone-to-charger.

So when the Get Connected Lanyard is hanging around an attendee's neck, it's also charging up interest in the event, your brand or sponsor with a full-color imprint. Choose your lanyard in silicone, which is fluid and flexible and easy to clean, or soft nylon which feels smooth against the neck during a day-long conference. Both allow for full-color imprinting front and back and come with either a bulldog clip for single-slotted holders or a lobster claw for holding multiple badges or clip holders.
Kindra Evans, pc/nametag sales manager, says that often customer ideas spur these fun extra benefits of a lanyard. While turning an attachment into a bottle opener is one thing, adding a tech enhancement is another that can inflate the price tag. However there's a fix for that: A sponsor may want to lend their name to it.
"I always remind event organizers that they don't have to do this alone," says Kindra. "They can look for a sponsor to help put that great product forward. And regardless of price, one of the main priorities is creating an experience. This kind of extra feature only enhances that experience."*
No doubt attendees will use this lanyard to charge their phones long after the event.
"This lanyard is just one of those products that lends itself so well to post-event use," says Karen. "Attendees will charge their phone using it and unknowingly promote your brand wherever they are."
*Courtesy of pcma.org
See what event-goers are so charged up about: Shop our Get Connected Lanyards today!