If you've noticed a shift in the events industry to more sustainable practices, you're not alone. "Today more than ever, both planners and attendees have been jumping on any opportunity to make their meetings greener," says Product Manager, Stefanie McGinnis.
From post-consumer-made name tags, to recycled lanyards to locally-sourced produce at the refreshment areas, the creative ways planners are going green are both impressive and inspiring.
"It's great to see it happening. And it's great to be able to offer promotional products that keep with the spirit," she says.
Eco-natives drive the change
For Stefanie, the shift in meeting attendee's tastes parallels one she saw early in her career – albeit of a different type. "A huge point was made about the millennial generation coming into the workforce being 'digital-natives,'" she says. "We kept pace by offering ever more tech-savvy promotional products that kept up with attendees expectations. Now we're seeing the emergence of what we're calling 'eco natives' who have never known a time when environmental consciousness and eco-friendly product alternatives haven't been available."
For Stefanie these customers aren't so much asking for alternatives, but simply expecting they will be there.
And that means having promotional products in every category to let sponsors keep their brand front and center while keeping a light footprint simply as a matter of principle. "Whether it's the meeting planner or the attendee or both that are eco-natives, our goal is the same as it's always been – to meet the needs that make a great meeting."
Raise a glass to greener thinking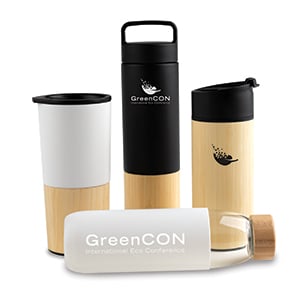 "One of the areas that we've really been able to expand is in drinkware," says Stefanie. "From Kai Glass Bottles to the to Welly Drinkware that contributes 3% of sales to well projects in developing countries, there are so many new ways to make a difference."
And, of course, after the recent controversy on straws, event planners were quick to reach out for help – and Stefanie was more than happy to offer not one, but three reusable stainless steel straw options. "We never know what the next request will be," says Stefanie, "But we're always ready to jump on the solution."

Greening up your most noteworthy promotional products
Even the ubiquitous ballpoint pen has gone green, thanks to the new Nash Wheat Straw Ballpoint Pen. "It's a fun and unique story guests really appreciate," says Stefanie. "And, when combined with the Reclaim Recycled bound Journalbook, attendees get a double dose of your brand's commitment to sustainable practices."
Greener fabrics, now ready for prime time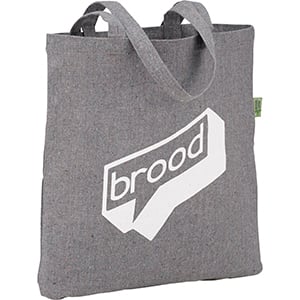 One of the exciting options for Stefanie has been the emergence of large-scale bottle recycling.
"The technology has become commercially viable so the bottles are recycled down into fabric that's really durable and strong without the huge price jump it once meant to go green."
And that jump in the technology means Stefanie can offer a new Recycled PET Umbrella and Recycled Cotton Convention Tote that keep a light footprint --and go easy on your budget."
"With this new technology," says Stefanie proudly, "going green to spread your brand message doesn't have to mean spending all your green to get it done!"
Product Development Manager Craig Erickson concurs. "Eco products like our Event Passes are becoming more affordable for planners. Our suppliers came up with some really innovative substrates and materials that are actually bringing the cost down, so you can have an event that's cost-effective and sustainable."
Looking for more information on planning a sustainable event or green meeting? Check out the Meetings Planners Guide to Sustainable Events.