We've all heard the old cliché, "the only constant is change." And meeting planners like you take that as a challenge to be at the front, embracing the newest ideas and latest innovations to keep your meetings ahead of the curve.
Lucky for you, you have a kindred spirit in our Product Development & Merchandise Manager Jayne Martinson. She never stops looking for new opportunities to keep our products as visually stunning and on-trend as possible.
Jayne describes the process as "taking your name tags from commodity bleak to corporate chic" when talking about our six latest name tag innovations.
1. New metallics add style and security.
It's no secret that Event Badges have quickly taken over as the name tag of choice in the meetings industry. And, while we're already the leader in Event Badges, Jayne saw an opportunity to go even further.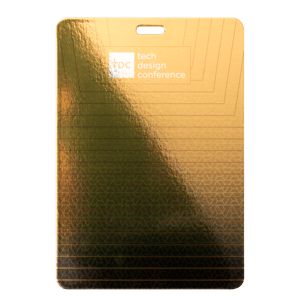 "Using our state-of-the-art digital printing process we've developed new metallic finishes on top of our previous silver and gold picks," says Jayne. "The 'Apple-esque' colors add a very sophisticated look that lets attendees know this is a premium event."
Even better, the Metallic finish is extremely difficult to reproduce so you get extra security for your event.
2. Pillar Lanyard in new hardware colors.
To finish the look, Jayne recommends our metallic-finished Event Badges get paired with our Pillar™ Lanyard – now available in three hardware finishes.
"With your pick of silver, gold and aged bronze hardware," says Jayne, "You can really tailor the look to perfection." And, of course, the unique Pillar design keeps your badge facing forward to make introductions at meetings simple and straightforward.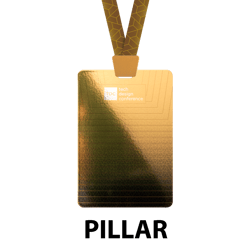 3. Prismatic: Rainbow of color with an air of exclusivity.
For the most unique look in the entire industry, and to guarantee the most premium feel to your event, Jayne and the Tag Team have introduced a Prismatic finish in a whopping six colors.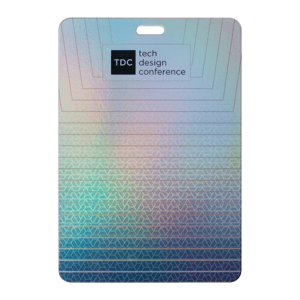 "This finish creates such an exclusive look for attendees," Jayne said, and the rich jewel tones give your event a pop of luxe color that really sets the tone."
Just like our Metallic finish, the Prismatic treatment adds an extra level of security. "It's so distinctive," says Jayne, "It's almost impossible to replicate the look."
4. Bevl™ Lanyard means shimmer on top of shimmer!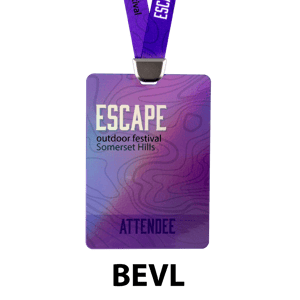 With a rich metallic sheen shimmering in the light, Jayne feels there's really only one option in lanyards to compliment the Prismatic Event Badges. "It's got to be the
Bevl
as far as I'm concerned!" Jayne enthuses. "The smoothly sculpted metal hardware offers a complimentary look that makes an unbeatable pairing."
5. New titles, new colors, bold new looks – it's a ribbon revolution!
As Jayne recounts, our Badge Ribbons have become a must-have item at events.
"What started as a practical solution to identifying speakers and VIPs has morphed into a way for all attendees to communicate their identity and personality at a glance," she says.
From title to sense of humor to personal mission, attendees are broadcasting more and more of who they are with each meeting. "It's become fully integrated into the name tag process," says Jayne, "To the point that planners tell us they won't host a meeting without a full supply of stack-a-ribbon® titles on hand!"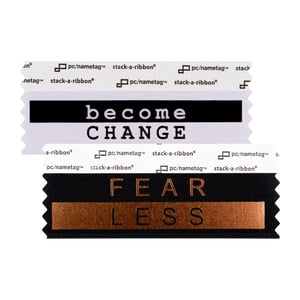 6. Two new ways to send the messages attendees want to communicate.
To further the connection process, Jayne developed two new Ribbon Packs. "Our Be Ribbon Pack gives attendees titles that mirror the cause-and-statement tee shirts that have become so popular," said Jayne. "It brings the same idea of standing for what you believe in into the meeting."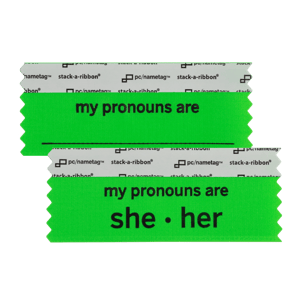 And, as the entire industry has become more sensitive to identity, planners have told us they need tools that let them do the same thing on the name tag. "Our Pronoun Ribbon Pack lets attendees see at a glance another attendee's preferred title so everyone feels more comfortable, more at ease on the conference floor."
Fresh font and colors for classic titles, too!
With trends in the meeting industry always in flux, Our New Wave Ribbon Pack updates the titles with a sleek new font, plus new colors that keep up with the trends. "By keeping up to date with the fonts, colors and other design cues that affect meeting name tags, we can give planners a more integrated look," says Jayne.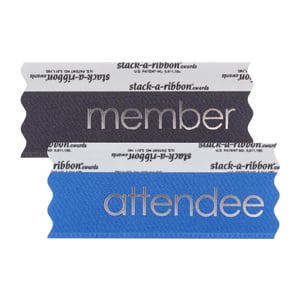 On-trend, always at your service.
While Jayne and the entire Tag Team are committed to keeping our products in step with the latest trends, there's one thing that will never change – our service to you, the planner. "All the hip new design in the world doesn't mean a thing if we can't immediately take care of you and deliver to you on time," says Jayne. "In fact, service is the one place where we'll always remain decidedly old fashioned."