As a planner, you understand that premium event production is a combination of functional details and all the visual elements that set attendees at ease and make them feel welcome – a seamless blend of form and function.
Our new Bevl™ Lanyard is built on that same philosophy. It's a study in functional elegance and premium feel – and a tribute to Product Manager Karen Pollack's constant drive to give customer's the beautiful design they crave.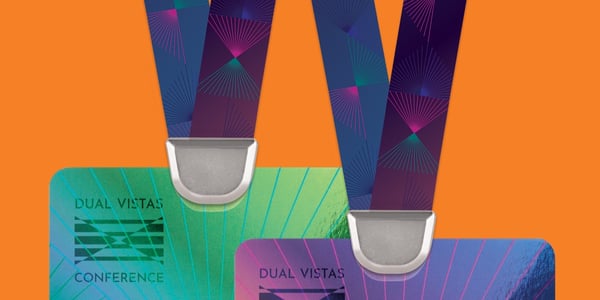 Satin-finished metal + beveled shape = Wow!
"With the Bevl, it all comes down to the user's experience," says Karen. "We wanted that extra bit of refinement, that touch of elegance and that substantial feel that let attendees know that this is not just another name tag from just another conference. And wearer's feel it as soon as they put this lanyard on. It just feels that much more special for the users."
Pleasing lines for a premium look.
Karen will be the first to admit she's almost obsessive about noticing great design out in the world. "When you see it, you see how it contributes to the premium feel of a location or to the luxe reputation of whatever it's been designed into," she adds.
So when the time came for creating another premium lanyard, Karen was more than excited for the challenge.
"The smooth crescent shape with a beveled edge is one of those eye-catching looks that just grabs you," she said. "It's such a nice balance of shape and proportion and has a universal appeal. So when paired with a brushed metal finish, it elevates whatever it's paired with.
Function to match the elegance.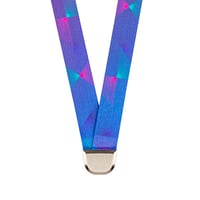 And the Bevl attachment comes in our most popular clip choices: Bulldog Clip for security and convenience and Key Ring so users can take their Bevl Lanyard home and put it to use holding keys and other extras.
"Smart planners know to always consider the secondary use of a lanyard," said Karen. "That extra bit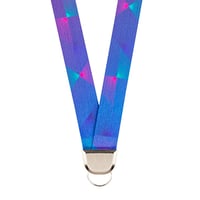 of function means lasting exposure and more value for your sponsors."
Especially when combined with the striking looks. Karen adds, "People instinctively like beautiful things, and a lanyard that stands out will quickly replace the other styles they are using and become their go-to lanyard." Plus, that keeps your logo front and center in their mind long after the meeting.
A face-forward design family: A triple solution to your no. 1 problem.
While the Bevl Lanyard is certainly striking and bold with a one-of-a-kind look, it shares a common design mission with our No-twist Clip™ and Pillar™ Lanyards. Each is built with no-twist technology to solve the problem every attendee hates.
"In our surveys and focus groups, twisting is the no. 1 problem meeting planners cite. In fact, 70% of meeting planners listed it as numero uno," says Karen.
So the first item of business for Karen was a technical solve to that problem. "Our No-Twist Clip introduced in 2017 did that, and it was very well received for convention and trade show use."
But while the No-Twist Clip delivered on the problem, Karen's personal design mantra "make it functional, make it beautiful" just kept sounding in her mind.
"Once we had solved the twist, I knew there was a huge opportunity if we could solve the problem elegantly. That was our Pillar design," she says.
But there was still one more opportunity for Karen. "We know attendees equate metal hardware with longevity and premium feel. So the Bevl attachment takes elegance up to an even higher level that exudes taste and refinement," she adds.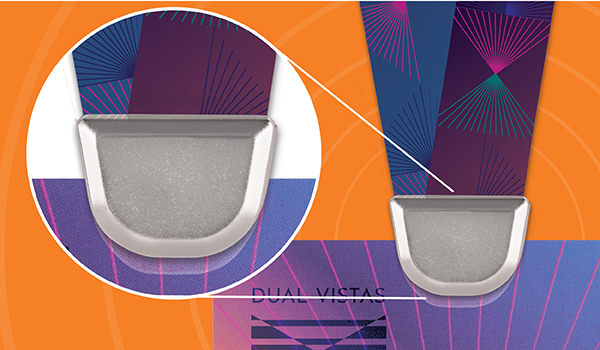 Natural flow for maximum name tag impact.
While the looks on their own are superb, Karen is keenly aware of this lanyard's main purpose: To make your name tag look it's very best. The age-old problem with lanyards is that all that hardware above the name tag gets, well, dangly, for lack of a better technical term. But instead of distracting visual clutter above the name tag due to all the hardware, the Bevl creates an eye-pleasing flow and symmetry.
"It really draws the eye right to the name tag design," says Karen. "It's the jewelry effect we pioneered with our Pillar design, but elevated yet again."
Dye-sublimated fabric as refined as
the Bevl attachment.
Our full-color dye sublimation is so rich and detailed that attendees immediately recognize the quality. So it only makes sense that it would be the perfect pairing to the Bevl. And, even better, the ¾"- wide ribbon or fabric ensures room to showcase elegant design and prominently display your logo or other message.
Timeless elegance for any attendee.
While the Bevl design is striking, it's also incredibly versatile by design.
Karen knew we needed a look that worked on both men and women –and that was at home on formal outfits. "Planner's put a lot of work into all the details of high-end events and they're catering to a group with high expectations," says Karen. "I knew we needed an offering that was compatible with formal dress for galas and and professional business dress for meetings."
But at the same time, the Bevl had to blend in at other events where it would also exude a premium feel. Think about back stage passes for symphony events or studio credentials or the vest-centric style of Silicon Valley. The lines of the Bevl work there, too.
The elevation of design – designed to elevate your event.
"My personal philosophy has always been that function is good, but function with eye-pleasing design is ideal," says Karen. "And with the Bevl, I just knew I had to do my part. To pay attention to the details, so planners could elevate their event to the highest level."
Want to add more elegance to your event? Check out the new and exclusive Bevl Lanyard now!