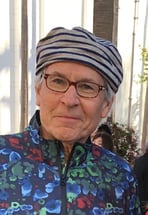 One of the many pleasures of retirement is looking back on your old jobs and getting a new perspective on them. In my case, the last job I held before retiring a few years ago was as a copywriter for pc/nametag. I knew name tags were essential for the meetings and events our customers planned, and found many ways to tell them why ours would make their events better than ever. But it wasn't until I had the bonus of more reading time that I discovered their illustrious, ancient history.
I was thumbing through The History of the World in 100 Objects, by Neil MacGregor. In a chapter titled "King Den's Sandal Label," the author tells the story behind a hippopotamus-ivory label found near Luxor, Egypt, and dated around 2985 BC. On one side of the label is an etching of the pharaoh's sandals, indicating that the label was attached to them.

On the other side are hieroglyphics identifying King Den and an image of him holding a club above his head, ready to clobber a man already down on one knee. MacGregor uses this illustration to discuss the wielding of power in the ancient world. But I was much more interested in what he says about the label itself: "This little ivory plaque is a name tag for an Egyptian pharaoh, made to accompany him as he set off to the afterlife, a label which would identify him to those he met."

Image Source: Amazon.com
So dead Egyptian kings wore name tags...hmm...
what a headline that suggested for pc/nametag: "Feel like an otherworldly pharaoh — wear a name tag." Just knowing the royal lineage of what I sold in my career escalated my status—at least in my eyes.
Fast forwarding a few thousand years, I've always been impressed by how successful my best friend from high school has become. He worked his way up to be the head of a large state department in New Jersey, retired early to become an in-demand consultant in his field and then was the executive director of a prominent foundation. I happened to be visiting him on the day his foundation was holding its annual meeting.
My executive director friend ensures name tags make it to the annual meeting on time!
Before we drove into the city for the big event, he had to make a stop for an important, last-minute pick-up: a couple cases of name tags for all the attendees. I found it ironic that I, recently retired, could have been a big help to my executive director friend by putting his assistant in touch with "my people"—my former pcnametag coworkers—had I only known he would need name tags.

Just recently, I finally experienced the transformative power of name tags personally. For several summers I had attended the Bang on a Can Music Festival at Mass MoCA, a museum in North Adams, Massachusetts. As an avid fan of the type of "experimental" music taught and performed at the program for young musicians and composers, I was quite star struck by the people donning lanyards and name tags flashing the words "BANG ON A CAN" and their role (students, for instance, were identified as "FELLOW").
Accepted! I'm part of the student body.
For the 2018 festival, the Bang on a Can collective added a Media Workshop to the program, so professional writers could hone their chops for covering the contemporary music scene. Though the workshop was intended for writers in the early stages of their careers with a working knowledge of music, and I was a retiree eager to start writing about new music, I sold myself to the admissions staff with more zeal than I ever mustered for an advertising campaign. When I was accepted, I was as excited as someone who had just got into his first-choice college—making me feel closer in age to my fellow Fellows.

Yet the dream-come-true quality of my time with Bang on a Can was tempered by the real demands of the workshop. Like deadlines: every day we had to come up with an interesting aspect of the music we were hearing and write a piece about for posting the next day. Since there were only four of us Media Fellows, the two very accomplished instructors critiqued our pieces con brio. So we harried scribes felt a bit like musicians trying to play two gigs at once, revising one article while writing a new one.

Photo courtesy of Jan Tymorek

But nothing could dull the excitement of interviewing and hanging out with the prize-winning composers who founded Bang on a Can, getting to know the very talented music and composition fellows from around the world and hearing hours of glorious, inventive music.

Special access for this mellow FELLOW.

What's more, my name tag was like magic token that allowed me passage to backstage in the performance hall and the sprawling museum's inner-sanctum housing rehearsal and composition rooms.

On weekdays in the museum, I saw lots of visitors who looked to be retirement age. I couldn't help but think that contemporaries of mine must have envied my Bang on a Can name tag—a label much cooler than the "Senior" designation that gave them a reduced admission fee.
I'm so proud of my name tag from last summer that I've hung it prominently in my home office where I look at it most every day. Which makes me think of how name tags are even more than identifiers or conversation starters; they're also reminders of a meaningful experience you'll never want to forget. I'd imagine pc/nametag customers also hold on to name tags from events that will always have a special meaning for them.

Design your next badge to capture event memories!