As we venture into cold and flu season, we hear of very scary viruses and outbreaks. With terrifying names like Coronavirus, Zika or SARS and horrific news stories about sickness and death, what precautions should an event planner take?
3 Ways to Keep Your Attendees Happy and Healthy
Your body is constantly working hard to keep you healthy, and the more you can do to support your immune system, the better it works to ward off these types of infections.

1. Advanced Hygiene: Be sure to perform these well-known hygiene protocols.
Wash your hands often.
Avoid touching your eyes, nose and mouth (most rapid access points for germs to enter your body).
Get plenty of rest (sleep is key for body maintenance systems).
Drink lots of filtered water throughout the day (green juices are even better).

Avoid

shaking hands with people or touching public areas.

2. Take immune support to the next level with natural health and wellness alternatives.
Eat immune-boosting herbs such as oregano, turmeric (think curries) and garlic. Could you talk with the chef about preparing meals with more herbs during this challenging season?
Make sure you are taking a HCL supplement. Hydrochloric acid (HCL) is made by the stomach to help digest foods and to kill any pathogens (bacteria, viruses, etc). As you get older (35+), the parietal cells of your stomach makes less HCL, which can lead to more indigestion, and believe it or not more acid reflux!
That's right, acid reflux can be caused by your body not making enough acid. As a result, the food does not digest properly, ferments and can create lactic acid, which is what can cause the burning sensation known as reflux. So, find a good Betaine HCL supplement to take with meals to help your body in multiple ways.
Limit foods that contain sugar, dairy and wheat, as these are all known to hamper your immune system's response. Alcohol can be high in sugar (especially certain cocktails), so limit that as well to help your immune system. If you are going to drink alcohol, I would recommend an organic red wine in moderation, as you are at least getting resveratrol and other polyphenols that can help boost immunity.
Schedule activities in the sun (if possible) to help participants receive Vitamin D. UVB rays from the sun help your body convert cholesterol into Vitamin D, an awesome immune-boosting hormone. Many people are highly deficient in Vitamin D since we simply don't get enough sunlight in the winter season, or we don't have access to the sun due to events or the geographic location.
Implement a healthy fist bump as a new protocol for your event instead of shaking hands to limit skin-to-skin exposure.
Find some fun and unique face masks for your attendees if you are in a highly susceptible health situation.
Make vegetable smoothies to boost immunity. Be sure they taste good so people will drink them, but be careful about adding too much sugar and defeating the purpose.
Citrus fruit-infused filtered water is a great way to boost hydration and immunity. Consider adding a Fruit Infuser Sports Bottle to your next attendee or guest speaker swag bag.

3. Reduce stress to boost your immunity.
Balance peaceful music with upbeat tunes during the event. The type of music we play impacts the stress response in the body.
Consider a wellness area or lounge where participants can relax and unwind. This will help them stay healthy on many levels.
Add wellness speakers to your event to teach your participants about these ideas so that they can maintain their health during the event as well as afterwards. Topics such as mindfulness, stress management, travel wellness, meditation, yoga and natural health techniques are very popular today.
Diffuse immune boosting essential oils in certain areas at your event. You have to give participants a choice, as some people are very sensitive to smells and won't appreciate a global scent. Could this be a special room in your wellness area? There are many aromatherapists who can help come up with a plan.
While the news can certainly be scary around some circulating and powerful viruses, there are many things you can do to help your body stay healthy during your next event.
When you care for yourself, you are not only looking out for your own health, but you're also putting yourself in a position to perform best for your team, customers and the overall event success.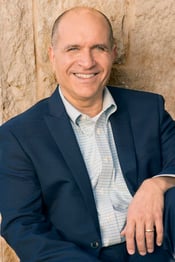 John Ayo is an Internationally recognized keynote speaker, wellness expert (Naturopath) and author. He was a successful sales rep that survived in the super stressful technology sector with IBM for 19 years, then moved into sales training and meeting planning internationally for 12 years. He delivers his inspirational content on staying healthy and sane in a crazy world (especially when you travel) via presentations and workshops for large groups and corporate events.

Learn more at www.TravelBalance.net.