You probably have several considerations when deciding on the appropriate badge, but the type, size and duration of event are typically at the top of the list. Is it a one-day board meeting or a multi-day conference? Will the badge be temporary, reused, or kept as a memento? Peruse the following badge styles and learn how each is suited for different event scenarios.
⟶ Before you dive in, be sure to grab our free guide filled with everything a meeting planner needs to plan the perfect name or event badges:
Take a look at The Meeting Planner's Guide to Panic-Free Name Badge Preparation
Event Badges
From personalized name tags for meetings and conferences to back stage passes for sold-out shows, Event Badges give a premium look and feel to any event they appear at. Crisp, penetrating color and durable laminated plastic make artwork, logos and photos come alive. These badges can include attendee names, barcodes and QR codes – even custom agendas and maps on the flip side. And for the ultimate in premium looks, select from up to seven finishes to take your badge from basic to brilliant: original gloss, satin, clear, soft touch, metallic, foil accent, holographic overlay. The Premier Event Badge has a credit-card thickness making it excellent for multi-day events, while the lighter weight Standard Event Badge is ideal for 1 to 2-day events. Both are available in different finishes – one being Holographic Overlay, which is a must for event security.

The best name tag for making a big splash, especially with larger sizes. They're bold, contemporary, and laminated to last. Thanks to full-color printing and optional bar codes and QR codes, they're also hard to duplicate which is good for security.
Choose from eight sizes or go custom
Choose from up to seven finishes
Include personalization & backside printing
Order badges with full-color imprints and print names on clear labels at registration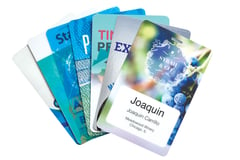 Event Badges: in seven finishes to elevate the attendee experience.
---
Vinyl Holders & Paper Inserts
A tried-and-true option, Vinyl Holders and Paper Inserts give you the perfect blend of quality looks, adaptability and durability to handle even multi-day meetings. No wonder this combo remains the meeting planner's go-to name tag! We offer many horizontal and vertical-sized holders and coordinating inserts that are compatible with all kinds of attachment options.

The best name tag for nearly any meeting, our Vinyl Holders come three different ways to meet your needs and your budget.

Free Name Tag Insert Templates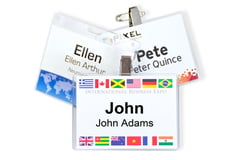 ---
Holder-less Name Tags
These are the perfect choice for short or informal meetings that will not be too taxing on name tags. It's always a good idea to keep a stock of these on hand for the impromptu meetings and last-minute attendees that are bound to come up.

The best name tag for casual, 1-day events.
Great for attendees and organizations that prefer "green" meetings
The only name tags that can be acceptably handwritten
Perfect for tight budgets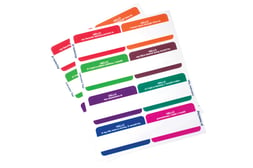 Includes 104 conversation-sparking tags & 2 mini Sharpie® pens.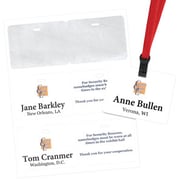 TEMPBadge® Holder-less Name Tags
No need for a holder: just peel, fold and attach a cord.


---
Reusable Name Tags
Reusable name tags give you the look of permanent corporate IDs without the commitment. Simply print out inserts for staff or board members and slip them into reusable badges. Swap out inserts to use the holders again and again.

The best name tag for designating staff, volunteers and board members at almost any type of event. These sturdy badges hold up nicely over time.
Some styles let you replace inserts with different names and titles
Good for high staff turnover or frequent meetings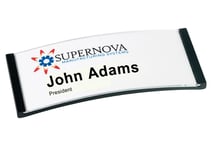 Features a double magnetic clip and slightly convex design for readability.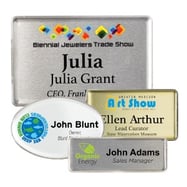 Includes a clear, scratch-resistant lens cover. Other sizes available.
---
Name Tag Pouches
Room keys, cash, cell phone, raffle tickets, agenda: just some of the small items attendees need to have on them along with their name tags, which is why a name tag pouch can be a perfect solution. And, with so much space for logos, event sponsors love pouches as much as attendees do!
The best name tag for attracting sponsors whose logos can be displayed. Pouches also allow attendees to keep their hands free during active meetings.
An imprinted pouch with lots of pockets is bound to impress!
Zipper option keeps belongings secure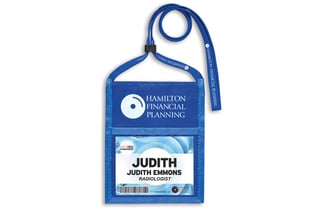 Built to the max with all the best features in one pouch!
---
ID Cards
The perfect solution for recurring meetings for fraternal groups or clubs, ID Cards can be printed on-site using your Evolis or Fargo Printer and CR80 Cards. A standard credit card size, it stows easily in a wallet or purse so attendees won't forget them for meetings. Don't have a printer? We can custom produce these cards for you!

The best name tag printing IDs with photos right on- site. With one of our ID card printers, you can also add a barcode or QR code.
Durable plastic hard cards hold up to long meetings
Also great for daily use at the workplace
Ideal when security is a top-priority


CR80 ID Cards with Magnetic Stripe
Ideal for the workplace.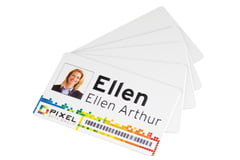 CR80 ID Cards: best for meetings & events
Best for meetings & events.