Take just one look at our new full-color Billboard Lanyard Wallet, and you know it sprang from the mind of a person obsessed with color.
And while Product Manager Karen Pollack does, indeed, a have a passion for pastels and a heart for hues, it turns out this product's beginnings are anchored in another person's color craving – yours.
"We all live in such a full-color world," says Karen. "And it's an important communication that's instinctual to us," she adds. "What's the first thing we do to brighten someone's mood or perk them up? We send them vibrant flowers, bright balloons or a colorful card. Color is our mental cue that things are looking up!"
A brighter world means more colorful meeting expectations.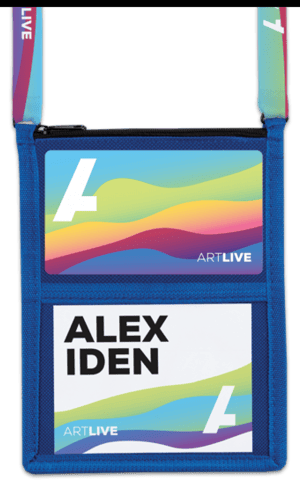 And for Karen, she's observed the shift in color has changed our expectation for meetings as well. "As color has become more accessible, meeting attendees have insisted on more and more of it – from the registration table to the name tags and everywhere else on the event floor," she says.
And to Karen, the new Billboard Lanyard Wallet was the next logical step. "Attendees love color and they love lanyard wallets – give them both and they'll be twice as happy!"
Attendees want convenience & security.
A lanyard wallet is an ideal solution for attendees. "In a recent survey with our customers," explains Karen, "A full 65% regarded the hands-free convenience as an important feature for the event and 68% identified security as important."
And the lanyard wallet design gives attendees both: hands stay free to pick up giveaways,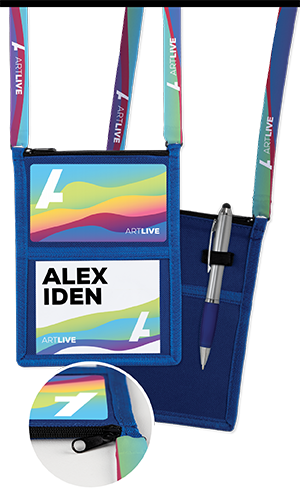 packets, a beverage, and also shake hands with fellow event-goers, while the zippered compartment keeps room keys, business cards, plus cash and identification safe and close to the vest.
That's especially beneficial in environments where carrying personal bags is not permitted. "We're seeing more venues that don't allow bags in for security reasons," adds Karen.
The most popular size in the industry – the largest print area possible.
"We know our customer's favorite lanyard wallet is the 5" x 6" size," says Karen. "And we wanted to create a design that would maximize the print area while also optimizing the name tag space. So we created a front insert pocket that fits name tags up to 4" x 3" and a 4 x 2 ¼" print space that lets your logo stand out across the event reception area."
Bright, vibrant color, crisp detail guaranteed.
While Karen knew planners wanted color, they weren't about to sacrifice clarity or risk their meeting to unproven technology. The printing process used on the Billboard Lanyard Wallet is the same technology used for our custom tablecloths, which delivers the same sharp detail and great looks planners can depend on.
All that bright color and crisp detail serves a very practical purpose for attendees. "When you enter a large meeting venue where everyone is instantly recognizable from their lanyard wallet, nobody is a stranger," explains Karen. "And that puts everyone instantly at ease, makes introductions fast and easy, and helps the networking and socializing kick in."
Added security for your next meeting.
But the benefit goes further for you as a planner. "With the Billboard Lanyard Wallet, your adding a security step to your event," says Karen. "Just a quick glance from across the room can help you spot an attendee that is out of place or help attendees identify each other in a large multi-meeting center."
Karen is keenly aware of the eye for details planners have. And that's her inspiration when drilling down into the details of construction – from the use of quality canvas to the thoughtful details like the elastic pen loop on the back and the smooth length adjuster on the lanyard that keeps the name tag at the perfect height for every attendee.
"I know planners don't quit until an event is perfect," says Karen. "And they're counting on me to do the same with my product design."
Dye-sublimated process means crisp, intense color.
Karen's anything but bashful on her color options. "We wanted to make sure planners had every option available," says Karen. "So we' developed both a single-color lanyard version and a dye-sublimated lanyard option for this style."
Karen knows the future is bright for her latest product innovation. "You can point to business trends, look for research and send out surveys to see what customers want – and we did all that," she says. "But at the end of the day, this is one of those products that will promote your brand while brightening an attendee's day as soon as they see it."
For a refreshingly colorful event, check out our Billboard Lanyard Wallet!