It's no secret that the pace of the meeting and events world has sped up: attendees register later due to tight scheduling and that leaves lots less time for name tag generating.
Product Manager Stefanie McGinnis knows this problem all too well. "I have planners tell me at every event I attend that they're constantly feeling pressed to find faster solutions for registration," she explained.
And that's why Stefanie went looking for the ultimate on-site name tag printers. "I knew they had to be faster, and easier to use than any other solution without sacrificing quality," she says, "because I've never met a meeting planner that's willing to let quality slip."
While speed was the order of the day, Stefanie's quest was anything but. It took 18 months to develop the perfect printers. But the work has paid off with the fastest, easiest-to-use on-site printers in the business –- all backed by our expert tech support.
Fast, easy and hassle-free.

"With our newest on-site printers you can generate one tag every second," Stefanie says. That means last-minute attendees can be moved through with unheard of speed while receiving the same quality name tag as pre-registered attendees.
"In fact," adds Stefanie, "Some planners have had so many last-minute changes for attendees at their meetings, they've gone to printing all the name tags on-demand. The pc/nametag Direct Thermal Printer is speedy and includes a customized driver with pre-set name tag sizes. The pc/nametag Direct Thermal Wireless Printer is just as fast plus allows planners to pre-load the expected attendees and add last-minute attendees while keeping the line moving faster – and without the waste of un-needed name tags."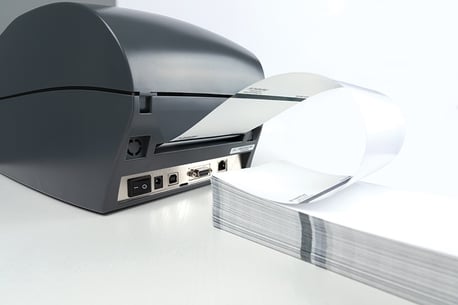 Printing isn't the only thing that makes these new pc/nametag Printers faster.
"These printers use thermal-set paper so there's no ink or ribbons to change, no toner to run out mid-registration – it really is as simple as load the paper and go," says Stefanie.
Even better? "The print drivers are automatically loaded so setting up for your name tag size is faster than any other system out there," she explains. "And we offer our Fan-fold Direct Thermal Name Tag Stock in the most popular name tag sizes including 4" x 3", 4" x 6", 4" x 3" Double-sided and 4" x 6" Double-sided so you have maximum versatility as a planner."


Mix color and convenience.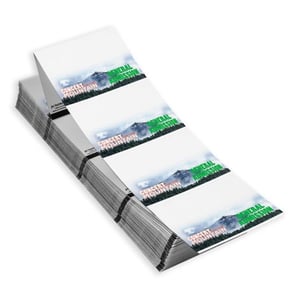 While the thermal paper prints clear, bold black for easy name reading, you can give your meeting name tag true 4-color appeal by pre-printing your logo or other information with our Full-Color Fan-fold Paper option. "The end result is a sharp-looking name tag that's ready instantly – and without the hassles of printing color on-site," says Stefanie.
An affordable option in instant
Event Badges? Yes!

While Event Badges have become a big part of the name tag world, it doesn't have to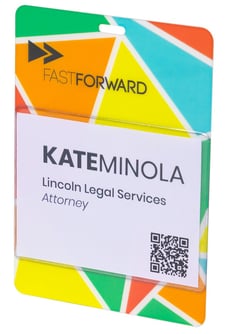 create an impossible problem for on-site registration.
"With a Clear Adhesive Vinyl Pocket added to the front of a pre-printed Event Badge, you can slip in an on-site printed insert and have the best of a badge and an instant name tag," says Stefanie. And for even more attendee convenience? "The sleeve worn on back also gives wearers a place to slip cards, cash or hotel keys."
Exclusive support – plus
Paul, Name Tag Printer Know-it-all.

"Sure planners are technologically savvy and can figure anything out," she says, "But if we can make their life easier by providing a hassle-free printer experience, they can put their energy to worrying about the other even-critical tasks they face."
"To do that," adds Stefanie, "We built a custom Quick Start Guide plus added custom Microsoft Word Templates in every available paper size to make setting up your design easy."
And if the Quick Start Guide and printer templates still have you stumped? "Better call Paul," says Stefanie with a laugh.
Paul, Printer Know-it-All as he is affectionately known around the office, is ready and waiting during normal business hours to troubleshoot any and every challenge. "That level of personal support is something we're famous for here at pc/nametag," says Stefanie "And Paul has helped planners out of so many jams, he's a minor celebrity."
Two printer options for even more meeting day convenience.

While the new pc/nametag Direct Thermal Printer is an ideal fast, affordable, no-ink solution for name tags, stepping up to the pc/nametag Wireless version gives you another powerful level of capability at the registration table.
Stefanie explains, "The wireless model is compatible with our On-site Scanner and can operate as a stand-alone system with no attached computer. That means you can set up a self-registration kiosk where guests can scan in their barcode or QR code from their confirmation letter and print their own name tag. That's a really nice way to save yourself some labor at the registration table."
Don't forget a printer case to help you keep your act together.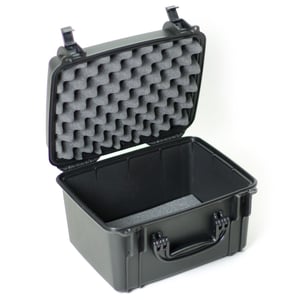 We've all had it. That sinking feeling you get when you arrive at a meeting location and realize that the power cord, charger or adapter you need to make your printer work is two time zones away. "We want to do everything we can to prevent that for our planners" say Stefanie, "So we've developed a Printer Case to keep all the printer essentials together with their printers, organized and ready to travel with you."

18 months work for Stefanie, precious seconds of savings for you when it really counts.
Sure, it's been a long road to bring these printers to market, but Stefanie sees it an investment that pays off for planners. "Taking the time up front for us means we can give planners back that extra time when they're in the thick of registration day. And that's a trade I'm happy to make!"


Looking for more speed and convenience on registration day?