How do you sort, organize and distribute custom name badges to 7000-plus attendees – many of whom registered at the last minute – without causing long lines and headaches? You don't.
Or, at least you don't have to, thanks to the hard work of Jayne Martinson, product development and merchandising manager and the rest of the pc/nametag crew. Because our newest innovation, the On-site Registration Event Badge, gives you premium Event Badge looks with the turn-on-a-dime registration agility of an on-site name tag.
And how it happened is a study in how pc/nametag never stops working to make your life as a planner easier.
Born of a challenge.
"The On-site Registration Event Badge started out as a challenge from a capable, but harried client," says Jayne. "Their tradeshow is hugely successful and a who's who of their industry – premium looks were a must." But that created both a problem and an exciting opportunity.
"With over 7000 attendees, they needed a solution for a seamless check-in: no badge searches, no last-minute scrambles, no long lines with steamed attendees waiting," she explains.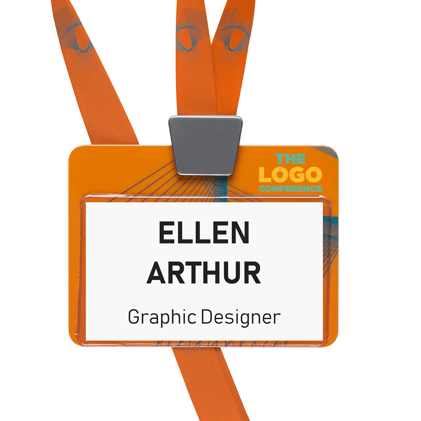 Our original Event Badge was already the industry leader in high-end meeting credentials. "Attendee's love the look and feel – so much so, these badges become souvenirs and status symbols when they get back to the office," says Jayne. "So we started with our most popular Event Badge size and then experimented with ways to integrate an on-site printed insert into the badge. We came up with the solution just days before our client needed them."
A full system at the ready – with the fastest turn-around in the industry.
We understand the life of a meeting planner is anything but predictable. And our On-site Registration Event Badge is just one part of an efficient, organized on-site system that creates a seamless, hassle-free experience for you.
"We knew planners needed a fully-integrated solution so our entire product team pulled together to provide it," says Jayne.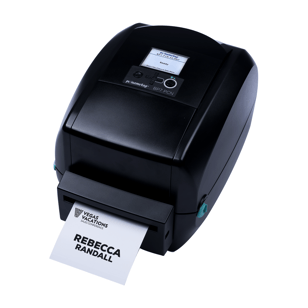 "We've built the badges to perfectly pair with the capabilities of our On-site Name Tag Printers, and we guarantee the Fanfold Thermal Paper is always in stock."
In fact, you can submit your design, or artwork for your badge, and we can turn it around in as little as 3 days. "And," adds Jayne, "If you want to take advantage of any of the special badge innovations like holographic prints or metallic and foil accents, we can turn those around in as little as 5 days. To the best of my knowledge, nobody else in the industry even comes close to that."
Faster staff training.
Not only did the On-site Registration Event Badge speed the registration line, it also eased the training and staffing requirements for the tradeshow. "Our client told us how much easier it was to get temp workers with no meeting planning experience up to speed: This process was much closer to data entry – no organizing, alphabetizing or the errors that go along with that, says Jayne. "They really appreciated that."
More sizes and options for every event.
With the success of the original On-site Registration Event Badge, the requests started rolling in for new size solutions. And Jayne and the crew were happy to oblige: pc/nametag is not just the first in the market with this badge, we also have the largest size variety in the market, too. And, Jayne's especially proud of the newest exclusive size.
"Our new 3-3/4" x 5-1/2" badge is fully compatible with the 3-1/2x 2-1/4" credit card size inserts that let attendees hold their ID and business cards as well," says Jayne.
The new size gives attendees a hands-free option for carrying essentials like hotel keys, ID, credit cards, etc. without lugging a bag or purse through the meeting.
Use the back, too.
Jayne has another pro tip that planners are increasingly taking advantage of: The extra area on the back of the badge can also be set up to hold an insert – on smaller sizes you can add a business card/credit card size or on the 4-1/4" x 6" size you can include a full agenda insert. It's a small addition attendees really appreciate as they navigate conferences and multi-track events.
Pair it with a Pillar™ or Bevl™ Lanyard.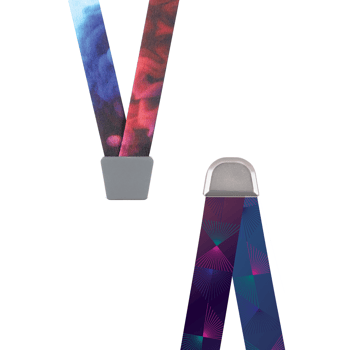 To complete the premium looks, Jayne recommends the sharp looks of the Pillar™ and Bevl™ Lanyards. "The look is really sharp and gives attendees the impression that this is not an ordinary meeting right from the first moment at the registration table."
Your all-in-one solution for a premium registration experience awaits.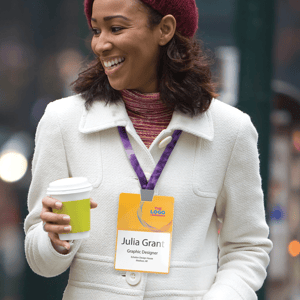 Creating branded, secure and personalized Event Badges for your events has never been easier.
And as far as Jayne is concerned that's the entire point. "Everything we do is for the planner. And when one of them comes to me and tells me our On-site Registration Event Badge has made her check-in process better and her attendees happier, I know the work is worth it."
Check out our full assortment of On-site Registration Event Badges and get ready to streamline and simplify your on-site badge experience at your next event!