Events these days are as much about experiences as they are about networking. And badges are an important part of those experiences. They're much more than a pass to gain entry or the saving grace when you forget someone's name.
When you're orchestrating an event that creates lasting memories, the badge is the prelude to your performance, the first thing attendees see. Post event, it becomes a memento. For a plastic laminate badge to have such longevity, focusing on a unique, customized design is well worth the effort.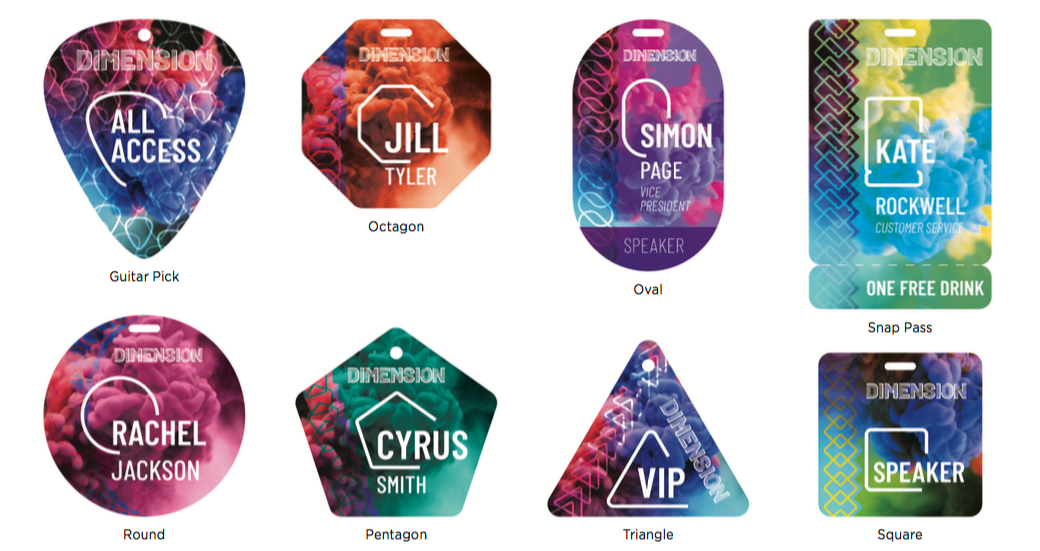 We'll turn your genius plan into
a one-of-a-kind Event Badge.
Maybe you're happy with your artwork and feel confident that our advanced printing capabilities will easily re-create it on both the front and back of your badge. You've chosen a finish – satin – from our selection of seven different finishes. This will certainly heighten your attendee's visual and tactile experience. You're also taking advantage of variable data, another specialty of ours with not just names but lines of text and QR codes on the front of the badge.
All these customizing options are great, but then you realize something isn't quite right. Your event is a folk music festival and the standard rectangular-shaped badge isn't complementing your amazing artwork.
Why not use shape to make
your design stand out?
Our innovative die-cutting techniques can help with that, too. The Event Badge comes in eight new stock shapes to visually tell your event story. In the case of the folk music festival, our Guitar Pick shape is perfect!
Besides various sizes of our rectangular-shaped Event Badge, you can now choose from Square, Octagon, Pentagon, Triangle, Circle, Oval, Guitar Pick, and Snap Pass. When it comes to customizing your Event Badge, we can't help ourselves: Shapes are as influential as color and words. Using a particular one can help send the right message about your event or brand.
This talk of shapes and how they affect your visual storytelling may already sound like Graphic Design 101 to some, especially if you're a designer, artist or photographer. But summarizing the geometric meanings or advantages of each shape we offer just gives you more creative options for your best Event Badge ever.
The Square: It's okay to
stay "in the box."
It's probably the most common geometric shape and suggests order, reliability and stability. The types of markets this shape lends itself to are education, sports and travel. Some well-known brands that don't necessarily fall into these categories are Home Depot, Uber, Gap, American Express, and The Weather Channel.
The Triangle: Think mountains
and pyramids.
The triangle shape represents strength and direction. Consider the "play," "fast forward" and "reverse" symbols, pennants and pizza slices. Sports, travel & hospitality, meetings & conventions, fairs & festivals, and education are just some of the industries this shape lends itself to. Brand examples include Adidas, Delta Airlines, Toblerone, and HGTV.
The Octagon: They'll stop
and take notice.
Here's the shape behind the stop sign, open umbrellas, (octagonal) windows, to name a few. Travel, fairs and festivals including music are potential markets for this shape. The Octagon provides a unique look that stands out from basic geometric ones.
The Pentagon: It's not just
a school crossing sign.
It's a famous U.S. government building and the black shapes on a soccer ball. Often the pentagon can be used as part of a composition. Markets that might utilize this shape are travel and sports. Chrysler is a famous "pentagon" logo.
The Circle and Oval: Try soft curved shapes vs. right-angled ones.
Circles and ovals are enclosed with no start or end. They represent unity and community. Types of industries that could utilize this design include meetings and conventions, travel, sports, fairs and festivals.
The Snap Pass: A name tag
and pass all in one!
This badge is a shoe in for the meetings and conventions industry. Instead of carrying a separate drink ticket, now you can wear a badge that not only showcases your brand, but also includes a perforated bottom pass that easily snaps off for access to a free drink or food. You can use it for voting, casting ballets, contest entries, even passes to special events.
The Guitar Pick: Not recommended
for the average-sided guitar.
As mentioned earlier, it's ideal for the fairs and music festivals industry.
Keep in mind that while designing your Event Badge, feel free to check in with our Event Specialists at 800.233.9767 or sales@pcnametag.com. They'll help with suggestions and brainstorm ideas, and also tap into our art and print staff for specific advice.
Please stay tuned as we add more customizing options for the Event Badge based on the latest event trends. And if you see any creative ideas at your next event, or come up with a brilliant one on your own, let us know in the comments below.


Shop our eight Event Badge stock shapes now and order free samples!