I like to reference marsupials when discussing the distinctive advantages our name tag pouches have over other badges in the event world. Like the kangaroo or koala who pouches her precious offspring to keep it safe and secure, so does our name tag pouch hold your vital essentials – credit cards, cash, room key, etc. -- to prevent loss or theft. Both leave paws and hands free to grab savory leaves from a bush or tech-savvy swag from a tradeshow table.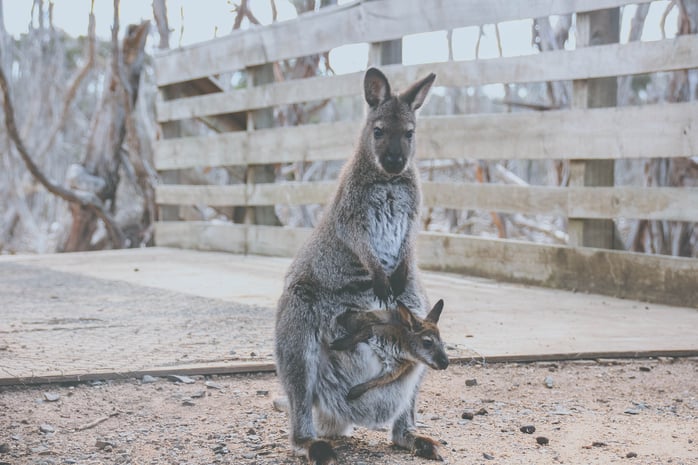 And now, back to the civilized world…

The name tag pouch, also called the neck wallet, has been hanging around attendees' necks at conferences, meetings and tradeshows for over 30 years. We're unaware of its origin, but speculate the pouch is a practical spin-off of coin purse necklaces worn by women for centuries. These ornamental little treasure chests allowed them to keep money or other precious items secure yet out of their hands – and certainly out of the hands of others.
According to Karen Pollack, pc/nametag's pouch product manager, this popular event supply continues to fill a need that other badges just can't match. "As long as there are people who actively seek the name tag pouch as a convenient and safe place for their credit card, cash, and ticket to the evening gala, it will always have a strong following," she explains.


So handy at being hands-free.

Karen tells the story of an event planner who received validation of her organization's love for name tag pouches when she spotted people wearing them at the pool during a break from the event. Sans name tag insert, the pouch offered the ideal place to keep room key and ID, etc. while attendees relaxed poolside.
"Name tag pouches not only conceal your vital essentials, but also offer lots of post-event usage," says Karen. "Many are designed to fit in your coat pocket, so that once you reach the farmer's market for instance, you can take the pouch out, wear around your neck and have hands free to shop and remove cash from the discreet zippered compartment."


There are good pouches, and then there are bad pouches.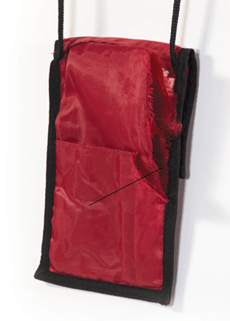 On a trip to Paris a few years ago, I experienced the dark side of a name tag pouch. Of course it wasn't a pouch from pc/nametag, but rather a complimentary model I received from the travel agency. I was wearing it while making my way through throngs of tourists surrounding Venus De Milo at the Louvre, and as was habit, I reached down to double check my pouch.
My heart sank.
A frayed side seam had left a wide opening for my contents to spill out. Suddenly I saw my credit card being stepped on by an oblivious Venus fan. I quickly recovered it along with my other scatterings and shoved everything in my pockets.

While I averted catastrophe and got away with my essentials intact, the experience was unnerving and taught me the importance of a well-made, trustworthy name tag pouch.

Triple Play Max:
the definition of a well-played pouch.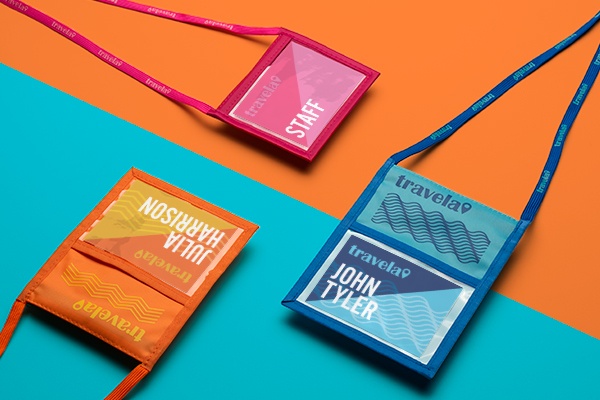 Every nylon and canvas pouch we offer has a vinyl backing that reinforces the fabric and prevents dreaded fraying. The backing also keeps the durably stitched flat weave trim in place. And, every pouch – even polypropylenes ones – has a woven poly lanyard that's soft and comfortable around the neck. Our Triple Play Max line embodies these features plus offers many customer-inspired options depending on your event and budget.
You can choose from three fabrics – budget-conscious polypropylene for a lighter weight pouch, sturdy 70D nylon for finely detailed imprinting, and hard-wearing 600D polyester canvas for a sporty look. The Triple Play comes in five different styles or sizes and a multitude of bright, fun colors. Mix and match pouch and trim colors to coordinate with your event theme. And choose from up to 196 color combinations!
There's also triple logo exposure: you can imprint your logo (or sponsor's) on the pouch, name tag insert and the lanyard. Need a breakaway, pen loop or d-rings added to your pouch? Just ask. We love to customize these pouches.
Triple Play Max, like most of our name tag pouches, has a pocket with a zippered top for concealing extras, a see-thru vinyl pocket in front for your name tag insert, and one in back for business cards, agendas, etc.


What about your phone?

Our Tech Pouch not only carries essentials in a generous side zippered pocket, but also holds most smartphones. Slip the phone through the top zippered pocket and the touch-friendly vinyl lets you check text messages and access the web.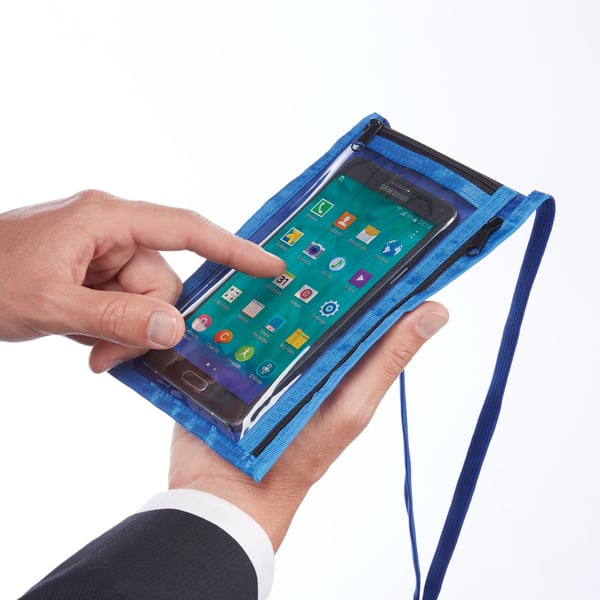 How soon can you receive a trusty name tag pouch?

It generally takes 7 days to produce, but that's just 3 to 4 days more than our Event Badge, with the added benefit of post-show usage and long-lasting brand exposure. If you need it sooner, the Triple Play Max Fast with 1-color imprint is available in 3 days, blank pouches in just 1 day.
Compared to marsupials, these options are lots faster than the 36-day gestation period of a baby kangaroo, plus your attendees needn't worry about their vital essentials hopping out of the pouch whenever they please.


Want to learn more about these secure, well-built, thrice-promotional, highly-adaptable pouches?