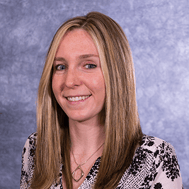 First off − Happy Holidays, Tag fans! I hope your stretchy pants and cheesy holiday movies get you through the week. I know both provide the love and support I need to make each holiday perfect. Usually the stretchy pants go above and beyond for me. Between the turkey, my personal cheesecake, and the 15-year-old cheddar, normal pants and me aren't really speaking this time of the year. Worth it!
If you're like me, you cope with holiday stress by eating turkey leftovers mixed with peppermint everything. All those holiday fixins' would certainly make a delicious turkey sandwich, with all the layers working together to create a delectable snack.
Allow me if you will, to break down those four layers, because they offer a simple, direct comparison to the four very important parts of a name tag. Both the sandwich and the name tag are created to impress, although you can eat the one and not the other – but I digress. (Sorry…I'm thinking about my cheesecake and my stomach's starting to growl. Ahem.) So here we go!


1.
The Bread = HOLDER
The bread is the name tag holder. It's the shell that holds everything together. We rely on the bread to "hold" our sandwich guts and keep everything organized.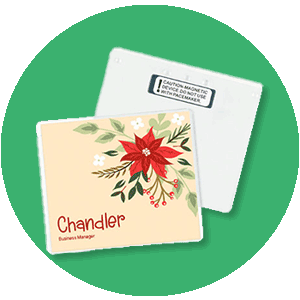 The holder you select can be extremely important because all components need to work together. If you go with a single-slotted holder, make sure your lanyard has a single-ended attachment. If your badge has a double slot, select a double-ended attachment.
The holder will also drive the size of the insert and ribbons. The holder is so important and is typically the best starting point. Why? Because the information you are putting on your insert drives your size. Are you just adding the first and last name? Go smaller. Are you printing a QR code, full agenda, name, city and state? Go larger. Think about your logo and everything you need to share with your attendee. We carry many sizes for this reason. Not sure what you need? Call us!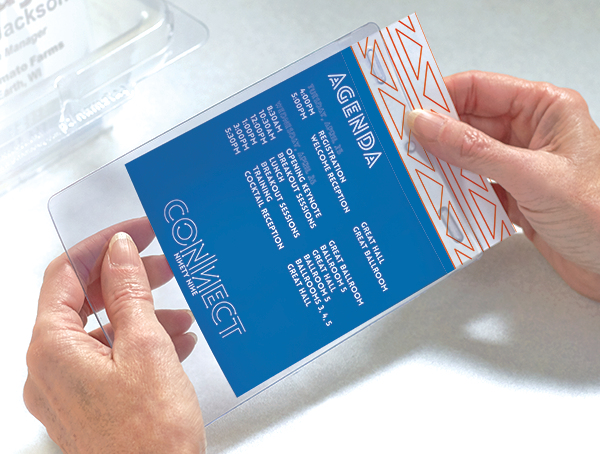 2. The Turkey = INSERT
The meat, or turkey in this case, is the insert. As the most important part, it's why we have a sandwich in the first place. The turkey is to the sandwich what the insert is to the holder.
The insert provides the attendees with the information needed. It gives the attendees info, helps with connections and introductions, stores your agenda (on the back) for quick reference, and houses a QR/barcode for scanning purposes to help with lead retrieval or session tracking, etc. Remember that it's important to select a size of insert that works well for what you are printing while making sure it fits in your holder.
The insert can be purchased blank, imprinted, or printed by us. We can make your sandwich and deliver it right to your door! We will do our best to deliver during commercials (no promises on that unfortunately).


3.
The Stuffing = LANYARD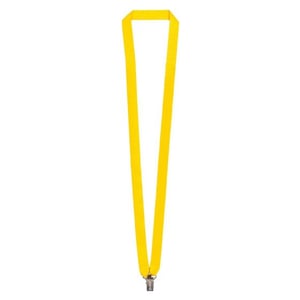 The stuffing is our lanyard. Let's be honest: everyone has leftover stuffing and everyone loves carbs on carbs. You'll want to add it to our sandwich. Can we go without dressing? Yes, but adding it takes the sandwich to the next level. Same goes with the lanyard.
You can purchase the badge holder with a pin or a clip, so you don't really need the lanyard (great for smaller budgets or quick meetings). However, the lanyard is so special. It's so much easier to wear a badge around your neck versus clipping it to a random spot. Plus, it's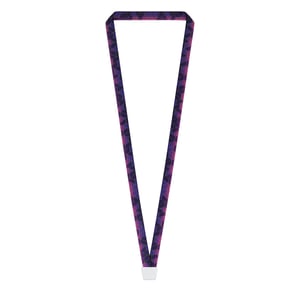 an excellent plug for branding or sponsorship. Going back to the holder, the attachment you choose for the holder will drive your attachment on the lanyard. Always double check to make sure they work together.
Let's talk about the lanyard options because there are many! How do you decide? How do you narrow it down? Think about your event. The main questions to ask yourself to narrow your choices are as follows:
What attachment works with my holder?

What is the budget, and what price point do I need to be at to meet that budget?

Am I trying to match branding?

Do I need a

full-color imprint or a one-color imprint?

Production time: is a quick turnaround needed or do we have some time?
All of these questions play an important role in helping make the correct decisions. A super great solution if you aren't sure which way to go, is to request samples. Let us help by sending samples to compare your options. We'll let you taste our sandwich before you even buy it!


4.
The Cranberry Sauce = RIBBON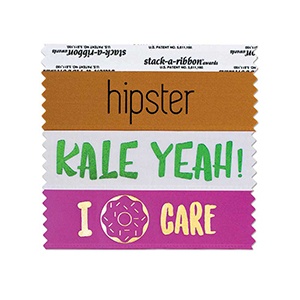 The cranberry sauce is the ribbon. Maybe you don't eat cranberry sauce or maybe you're more of a mayo person. Either way, this is the extra part that finishes off the sandwich. Sauce is a condiment to the sandwich, but can make a HUGE difference. It completes and compliments all parts of the sandwich, just like the ribbon does to the name tag.
Whether you purchase something in stock or custom, the ribbon drives your attendees. It invites them to socialize and share information about why they are at the event. Attendees love their ribbons because it completes their name badge, making it personalized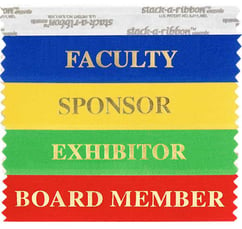 and special. The ribbon also tells your staff or exhibitors who's who and makes sure everyone is in the correct place.
That, my friends, is our Holiday Name Tag Sandwich. With food all around us this time of year, I couldn't think of a better way to describe the four most important parts of an attendee's name tag: the holder, insert, lanyard, and ribbon. Are you hungry yet?


Just four simple parts create an impressive Name Tag.