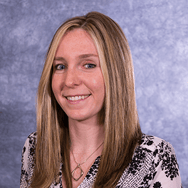 Hello! Megan here. I'm an Account Manager at pc/nametag. I work in our sales department helping customers create events that blow people out of the water. I'll be contributing posts to the
Tag Talk Blog from time to time. Allow me to offer you ideas, maybe questions to think about, and provide traffic-stopping solutions. Let's get to the dirt!
This being my first blog post for pc/nametag, I want to talk about what to showcase on a badge. You're wondering, Why talk about that, Megan? Well, because it's what I do. I exhibit at tradeshows and also see and hear the issues my customers deal with. I evaluate things from all ends of the event spectrum: as an attendee, as an exhibitor, and as a planner.
Let's be honest. The badge tends to get shoved to the end of planning because of the scope of what you do, which is why I know a great event supplier who can help you with it.
I'm just sayin '...
The badge worn at a tradeshow represents not only the planner, but also the attendee, the sponsor and the exhibitor. It's the billboard for the person wearing it, which means it's so important to make a statement for many reasons. For starters, if attendees go to registration and pick up a mediocre badge, they don't feel it, and that sets the tone for the event – cheap, lame, boring, meh. It's like clothing. If you aren't excited about what you're wearing, your attitude will reflect it. Confidence in a name badge is the same thing. Get them excited for the event. Pull them in!
Which brings me to my next point: creative design. Make your badges pop. Give them flare! Step outside of the norm and get people excited. Going back to the mediocre badge at registration, no one gets excited over boring. So use fun art, branding, great colors, and make the badge visually appealing. I've personally seen a well-designed badge stop non-attendees in their tracks. They want to talk about your badge and event. Make your badges stop traffic. Draw attention to your cause.
The attendee wants to wear an attractive badge and be proud to wear it!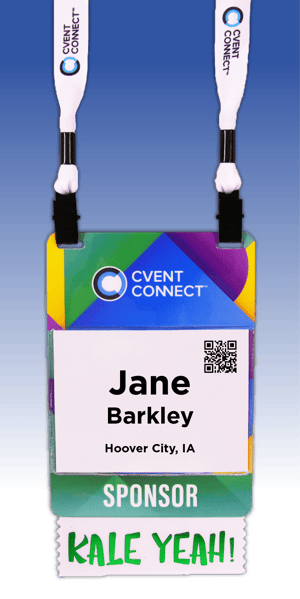 When I wear a badge, I think of it as my personal signage. It's a reflection of who I am and where I come from. The badge tells my peers what my name is, what company I work for, the location, etc. As a reminder, all of your attendees should be making connections and networking. That name badge/personal signage should be assisting in networking and directing people to start conversations. Oh, you're from pc/nametag? I love your badges! Generate those conversations and connections. What happens if a connection is missed because of a poorly executed badge?
And allow me to include a reminder here: make sure the names on your badges are as large as possible. Yes, your branding is extremely important, but so are your attendees. Make it easy on everyone to clearly see who someone is. There's nothing worse than forgetting a name and not being able to see or read their badge because of small text. AWKWARD. Heeyyyy yyyouuu!
Isn't the point of a name badge to provide that information? Whether it's a new contact or an old one, we all need that small reminder. Man oh man, I have been there before when you can't see the name and feel a wee bit silly, because you can't think of the person's name.
Speaking of conversation starters, the pc/nametag stack-a-ribbon earns its own special paragraph.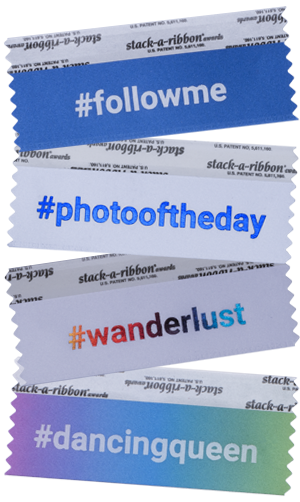 Let's face it: stack-a-ribbon® deserves a book and a movie. What a fantastic conversation starter! Call it serious or silly, it provides a great glimpse of who someone is, both personally and professionally. I'm always blown away by how passionate attendees are when it comes to their ribbons. Which they should be! Ribbons are part of their billboard and signage, showing who the attendee is. As a Wisconsin Cheesehead my entire life, I'm always going to high five others wearing titles like Wisconsin or #hereforthebeer. It's an instant connection and safe zone for me.
Another part of your badge presentation is your lanyard. Everything, the badge, lanyard and ribbon should be cohesive and work together. The presentation or billboard as I call it, should look clean and flow nicely.
With that being said, I'm obsessed with our New
No-Twist Clip™ and Pillar™ Lanyards. Have you seen them? Do yourself a favor and request samples. They're both innovative, unique, and brand new twists on not-so-new products.
And, for the love of all short people, add a length adjuster to the lanyards you order.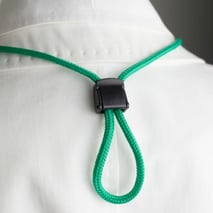 Adding a basic length adjuster can make someone feel so comfortable. Like you thought of them personally. A length adjuster is a small thing, but it really goes a long way.
There are so many components to a name badge that I could ramble on about. I could provide hours of pros and cons to every single detail. A name badge is so personal to your event and attendees, that creating it is often not so a simple.
That's why I love what I do. Provide me some information on your event like attendee demographics, what kind of event – laid back or formal, where it is, your budget, and your vision. Let me help you design a badge that stops traffic. I don't think of myself as a salesperson. I'm a terrible salesperson. I consider myself a consultant. I want to personally work with you on every event to make sure it's perfect.
I want your badge to stop traffic.