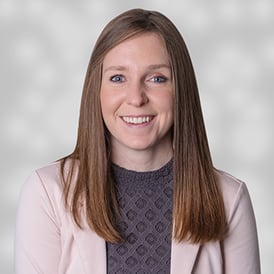 I need lanyards!
Those three words from a customer mean more to an Event Specialist than the simple fact that you need a necklace with an attachment to hold a name tag. Those three words open up questions an Event Specialist asks, so she can know everything about your event. Details you didn't even know were important. Those specifics help us dive deeper and reveal the optimum lanyard, attachment, branding, name badge, ribbon, and on and on.
Wow. You may never look at a lanyard the same way again. All those details do matter, and I know you get that or you wouldn't be an event pro in the first place. The more we chat and you explain your event, the more we can visualize your pending attendee experience. I've broken down five points to consider about lanyards, and if you look these over, you're ahead of the game, because they'll help simplify the process before you go online to shop or pick up the phone to order.
1. Twisting Lanyards -- can't see names!
If you have never experienced this, the world applauds you (and is so jealous). In our surveys and focus groups, twisting is the no. 1 problem planners cite. In fact, 70% of meeting planners listed it as numero uno.
Here are two solutions that will drastically minimize your attendees walking around with their name tags flipping out of control: dual-ended lanyards or our exclusive No-Twist Lanyard family.
Dual-ended lanyards are like the new craze diet: everyone is wearing them. They're a solid solution to this pesky twisting problem. They attach to the top right and left corners of the badge to minimize the flipping effect and keep the badge facing front. The second option is our new & exclusive No-Twist family: No-Twist™ Clip, Pillar™ (below) and Bevl™ Lanyards. These lanyards don't follow trends. They set them with style.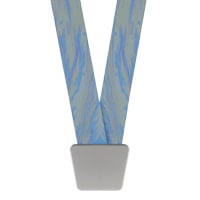 Both solutions will resolve the twisting, flipping, spinning issue. Your choice should be driven by your budget along with preference. If you feel the two ends are an extra step to take or too much hardware, go with the No-Twist line which is sleek, modern, and a single attachment. Another insider tip to solve this issue is to print the badges with the same info front and back.
2. Lanyard precisely matches brand.
A common pain point is when the lanyard colors don't match brand colors. To ensure your branding is correctly represented, you have two options: a PMS match for the imprint on a screen-printed lanyard, or a dye-sublimated fabric that is dyed to come as close as possible to match your brand's color palette.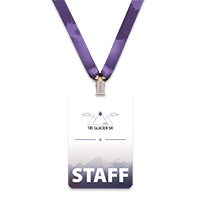 The best option really depends on your budget and whether you like the look of the lanyard or not. If you want that sleek, silky smooth material to hold a full-color imprint or a detailed logo, go with the dye-sublimated option. If you want a one-color imprint or you're taking the economical route, a screen-printed lanyard will be your best option.
3. Best lanyard fabric for attendee, too.
Selecting the correct lanyard material to meet your needs goes hand in hand with #2 above. What you are printing on the lanyard tends to drive the fabric. If you want that vivid, full -color lanyard, skip a cotton lanyard. Fabric can be very important to some while have zero impact on others. Consider your attendee. Do you want something a little softer because they are wearing it for four days? Maybe you're dealing with construction workers and want something a little more durable. Think about your attendee when selecting a material unless your imprint is driving the decision.
4. Noisy little beasts at the show.
Have you ever been an attendee at a tradeshow or conference and felt a bit like an animal with all the jingling?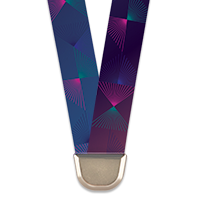 The jingling will come from a metal-on-metal attachment that clanks together. You can consider a plastic attachment. Not all metal attachments will give you this jingle jangle fun, though. Only the metal on metal will create that effect. Consider going with a bulldog clip or any of our No-Twist lanyards like the Bevl lanyard (at left). You will move in solid stealth mode with any of these metal attachments. Go ahead and change that name on the badge to Sneaky Pete!
5. What's your delivery date?
Delivery date is so important. It's driven by several things but typically it's by quantity and product selection. If you have a high quantity, it can drive up the production time. Higher quantities need more time to be printed and produced while lower quantities can usually be cranked out faster. This is standard with almost any product you order. The other factor that plays in here is product. There are so many lanyards and they all have different production times. At pc/nametag, they can range from 2 days to 16 days.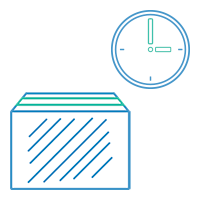 Yes, you might like the lanyard that ships in 16 days due to cost, but you can't wait that long. It all depends on your deadline. If possible, consider ordering your lanyards early. Get those started, so they're off your plate and you have more options.
Your main point of concern is so personal and driven by the event. Maybe your delivery date is three days out and you have little time. Maybe it's price and you have months before your event. Help Event Specialists create the perfect love story to ensure your lanyards are exactly what you need for your event. Share your likes, dislikes, needs, wants. Let pc/nametag be the matchmaker to the lanyard of your dreams.