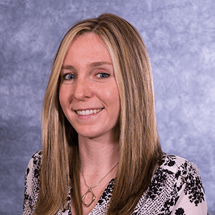 Here's a fun fact: exciting and creative name badges make my day. I'm not talking I smile robotically and move on after I receive your order. No, I follow your badge through the entire process until it prints, and then I request a sample, because I'm psyched about what you created, and I want to personally ensure that your showpiece is perfect!
Great art on any product makes me happy, but badges are more personal to me. I've mentioned this before, that it's not just a reflection of your event, but also of your attendees because it has their names on the end product. You want them to like, even love wearing it.
So, what better place than this blog post to talk about badge artwork? Now I can get more in-depth about what we see day-to-day as badges are printed -- the absolutely great ones and the ones that need a little recharging. I'm going to talk about examples of both that Event Specialists like me see every day at pc/nametag.

These badges get an A+



Use creative, even unusual art.
Badges are a reflection of the event. Like those high achievers above, they are one of the few physical things attendees take away besides some networking, new learnings and fantastic parties. We are seeing trends of attendees keeping their badges because they either associate something with it or just like the badge a lot. It's hard to toss something pretty, and that's probably why us gals have so many shoes. Either way, the badge is a great way to remember a fantastic event. Plus, a memorable badge can act as a reminder to pre-register for next year.


Match your branding for a cohesive package.
Events almost always have a theme of some sort. Whether it's a red theme, a city theme, or something extremely specific, planners have an idea in their head of what they want to execute. The brand or theme should flow from giveaways, to signage, to badges -- it should match up on everything. We have the option to make things intricate or simplistic; we can match your budget, even if it's small, we can still be creative with matching your brand to all of your products. And, please don't let your badge, the start of this extraordinary event, fall short because it's a last-minute add.


Use the front and back of the badge.

Attendees love having either an agenda or a map on the back of their badge. Make it easy to quickly reference info, especially tidbits they need to glance at more than once. Give the attendees everything in a simple and quick form. Another great item to add is Wi-Fi or app info. Or, add your event hashtag on the back. You want that bad boy everywhere at the event so attendees share and use it.
I'm sharing a tip from Jess – our Sales and Corporate Sponsorship Manager – because it makes so much sense. When using our new Snap Pass Event Badges, add the text for the ticket on the back. Having attendees walk around with the word "BUFFET" maybe isn't your vision, but if you place that text on the back, you can use the extra space on front to expand your branding. The front might also be another great spot to put your event hashtag. (Also have the hashtag on the back however, because once the ticket is used, it's gone).

Great ideas that can be challenging.

Printing on-site with dark badge art.

First off, there is nothing wrong with a dark background like those above, and I absolutely love it! Whew, now that we have that out of the way, let's chat about why dark art might need a recharge. Dark art is so appealing and totally fresh from what we typically see as badge art. The issue you'll run into is printing those labels and one-offs on-site. Whether you have a direct thermal printer, a standard ink or laser jet printer, you won't be able to print reverse or white letters. The solution is to create a lighter box where the names go for on-site printing. Keep this in mind when designing to ensure you are okay with the slightly different look.


| | |
| --- | --- |
| Pre-Printed Badge | Great On-Site Solution |

Cramming too many goodies on the badge.
When adding items (several logos, too much personal info, an extended agenda, etc.) to the badge, keep in mind the most important goal of the badge: to initiate introductions and start connections. Here at pc/nametag, We've seen the back of a badge covered in sponsor logos or the front with lots of competing info that distracts and makes it difficult to see the name. So keep your logos small and place them strategically. Incorporate those logos, if needed, into the art to create a flow.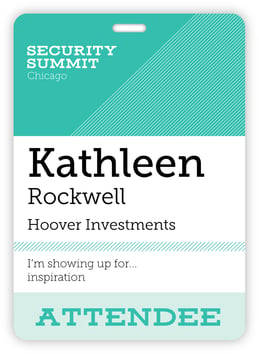 Another idea to keep the badge clean is to add those extra logos to the lanyard instead. In regards to personalization, you could also clean it up by adding a line that sums up why someone is there. Use a line that states "Ask me about" or "Talk to me about" to start conversations. This can help minimize extra text and creates a fun way to introduce oneself or meet someone. Any questions on how to or organize or clean up your badge? Ask us! Let us help you place the items you feel are most important on the badge. Our professional graphic artists are phenomenal at making vital parts fit well and flow together nicely.


No more same old white badge.

It breaks my heart to see a plain white badge. We see so many awesome badges leave pc/nametag that when we see a not-so-exciting badge we feel sad. We, and when I say we, I mean every employee at pc/nametag knows your event is special. We want your badge to be the favorite. It should stand above all others. While the need for a more serious, straightforward badge is not lost on us, there is always a way to keep a badge clean and professional while upping your creativity. You want your attendee to keep this badge. You want it hung in their office so someone will ask "Where is that from?" which could lead to more attendees next year, right?



Each Event Specialist here has a box of badges they have helped customers with on their desk. Every week we do a show and tell, sharing our favorites and learning from each other and our customers. In fact, with each order, all of us throughout the company learn something new. Since pc/nametag is focused on growing and always improving, we'd love to know what you think when it comes to designing a badge. Give us your thoughts! We love partnering with you on the process, and we hope you appreciate the teamwork.