When we say we're lucky to have customers like you, we absolutely mean it.
Because it's your continual feedback and interactions with us that inspire us to keep creating the most innovative products in the events industry. And nobody has a better understanding of the benefits of this constant interaction than Product Manager Jayne Martinson.
"It's satisfying to have a planner walk up to you at a tradeshow and say, 'You guys are so great. You have the foresight to know exactly what we need before I even know myself!'"
How do you get to know planners that well? "Experience," says Jayne. "We've been in the industry so long that planners feel comfortable with us and immediately tell us what's new with them, what challenges they are facing and what's giving them problems."
How listening fixed an over-stuffed
to-do list.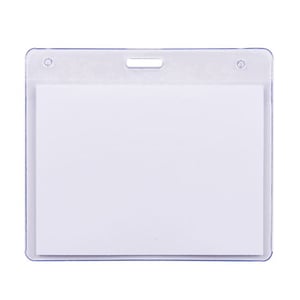 In fact, that's how our EZ Stuff® Name Tag Holders came to be.
"It was planners telling us they were crunched for time – that stuffing inserts was slowing them down – which led us to the innovation," says Jayne. "We can't warp the time space continuum for them so we did the next best thing: we invented a product that cut stuffing time by 20%."
We're pretty proud of the ingenious air pocket design that leads to the time savings, as Jayne will tell you. "It's knowing how it solves a planner's problem that makes us proud."
Being as flexible as planners to solve the planner space race.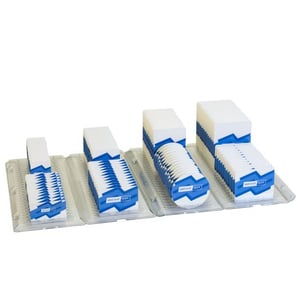 Our commitment to planners doesn't end at the name tag. "Our planners told us they

have a huge volume of set-up items on meeting day," says Jayne. "And minimizing the size of the load they have to transport or ship to the site would save them time, trips plus shipping budget. That's where the OneWay® Flex™ Name Tag Organizer comes in."
A brilliant trifecta: Load, fold and go!
Each OneWay Flex includes two trays that can be pre-loaded with up to 100 total name badges from 4 x 3" to 4 ¼" x 6" or name tag holders – even bulldog and combo clip models.
Once loaded, the trays snap together and the real space-saving magic begins. The offset slots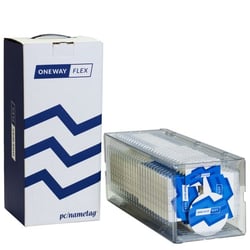 mean the name tag rows intermesh as they fold together to form a compact cube, protecting name tags and holding them secure during transport. The cube locks closed and slip into the collapsible, reusable shipping box that takes up approximately 1/3 the space of our standard OneWay® Stack™ Name Tag Organizer.
Even better, the design also answers another key need for planners. "Up until now there's been no name tag organizer on the market that lets you pre-attach name tag ribbons," says Jayne. "But this design lets planners arrive on site with fully-assembled name tags at the ready and one less worry on their plate."
Two exclusive solutions for a problem that had planners flipping!
And, because no detail escapes a planner's watchful eye, Jayne and the product development team were given another challenge to solve. "Lanyards kept coming up in conversations with planners," says Jayne.
"So we did customer research on how we could make them better, and 70% of planners cited twisting as their #1 problem," she explains. "Planners understood that all the work they are doing to create an impactful, easy-to-read name tag goes to waste if everyone's name tags are facing the wrong direction."
And that's when Karen Pollack, lanyard product manager, stepped in to lend her expertise.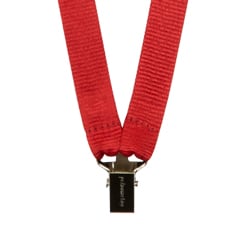 "Karen delivered two outstanding products," says Jayne. "The first is our No-Twist Clip™ Lanyard with an ingenious Y-design to keep the name tag facing forward through the entire event."
And while that was an incredible improvement, Karen wasn't about to stop there. "Karen had the function of the design nailed," Jayne says, "But she also wanted to create an eye-pleasing, premium option planners could use to set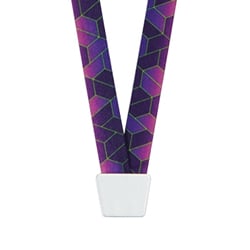 their events apart."
That's where the faceted design of the Pillar Lanyard came from. It features a clean, polished look that draws your eye to the name tag. Planners rave about it – saying it looks more like jewelry than a tradeshow lanyard.
The name tag that holds essentials and offers 196 ways to
stand out.
Here's another solution to a planner's problem: Our Triple Play Max Pouch. "Planners are telling us attendees want to move on the meeting or tradeshow floor in as streamlined a fashion as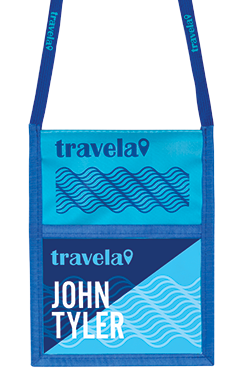 possible," says Jayne. "They're skipping the bags and portfolios and going with just their smartphone."
That presents a problem for attendees – and an opportunity for planners. The pouch holds essentials like room key, cash and ID in a zip-top security pocket while leaving hands free. We offer it in 196 different color combinations plus custom-screen printing for branding. The pouch offers a cohesive look and feel that's the hallmark of a well-planned event.
And for Jayne, that's the true reward of pc/nametag exclusive supplies. "They're the solutions that let planners be at their best – because they've inspired us to create the best."
Shop these exclusive products and more before your next event.