When you want to design a name tag that truly stands out in a crowd, one that embodies a premium look and feel, our Event Badge is just the ticket. This plastic laminate has the same thickness as a credit card, so it's ideal for multi-day and high-profile gatherings. If you choose this route, rest assured badge preparation is just as seamless as ordering name tag inserts and holders. And it's even simpler when you consult one of our Event Specialists.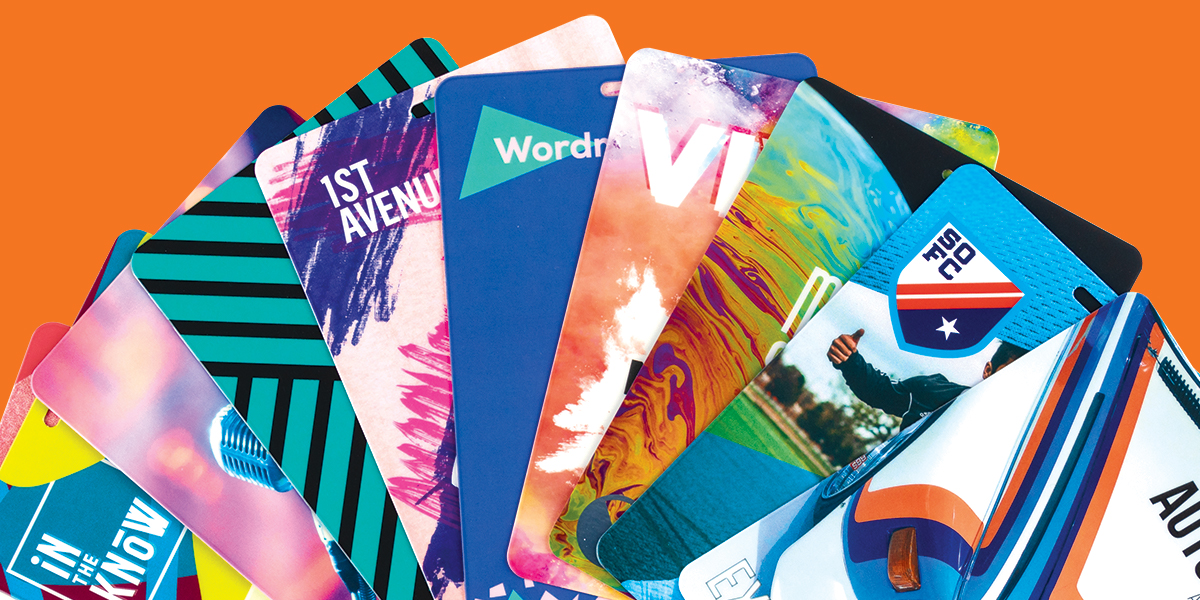 Besides meetings and conferences, this badge is perfect for so many events. Use it as a VIP and backstage pass for concerts, a credential for sporting events, a staff badge for training activities, or all-access pass for food festivals–the list goes on and on.
Through our state-of-the-art print capabilities, we recreate in vivid detail your logos, artwork and photos both on the front and back of the badge. Plus, when you give us your attendee list, we can personalize each name tag, include barcodes or QR codes, even print event maps and agendas on the back side.
Move over rectangular badge – make room for eight new shapes.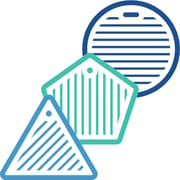 When it comes to customizing your Event Badge, shape is as influential as color, design and words for visual storytelling. You can choose a particular one that reinforces your brand and becomes a memorable symbol of your event.
Besides the ever-expanding selection of sizes for our rectangular-shaped Event Badge, you can now choose from Square, Octagon, Pentagon, Triangle, Circle, Oval, Guitar Pick, and Snap Pass.


What about the finishing touch?
We offer seven finishes to heighten your attendee's visual and tactile experience: original Gloss, and new Clear, Satin, Soft Touch, Metallic, Foil Accent, and Holographic Overlay.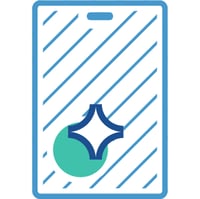 We also offer the Event Badge in seven sizes, and five attachments with the option of slotting the badge and pairing it with a customized lanyard. At this point, your choices are endless and can even confuse the most detail-oriented planner in the business!
That's why we believe to get the most out of an Event Badge, it's easiest to consult with our Event Specialists who can explain your options, prepare a quote, and communicate your needs to our art staff and services area.



Whether you're an experienced planner or new to the industry, our Event Specialists can make suggestions, brainstorm ideas, and even refine your plan for you so that all your registration materials are a cohesive package.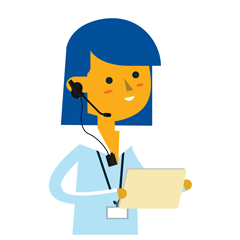 Juli Mikalofsky, an Event Specialist with pc/nametag for 8 ½ years, is an expert at offering product scenarios to customers.
"If you request a slotted badge for instance, I'll check to see if you would like it double-slotted and then ask, 'How about a double-bulldog clip lanyard that prevents name tag spin? Did you know we can also imprint your company logo on the lanyard?'"
You can always request samples of Event Badges, particularly to see and feel for yourself the exquisite full-color printing as well as examples of our new finishes.
"If your event is to celebrate a 50th anniversary for example, I'll suggest an Event Badge with gold foil accents," she adds.
After you've made some decisions about your badge, Juli generates a quote that's immediately emailed to you. The event timeline certainly affects the urgency of Juli's follow-up call, but in general, if the event is a month to two months out, Juli responds a week later to learn whether the quote is still satisfactory or whether you would like a revised one. After that, feel free to call or email back and talk to any specialist – anyone on the staff can push the order forward.
With your quote number, either upload your artwork to our website or send via email.
We can walk you through how to order an Event Badge on our website. You can also find more details on accepted file types on that page. If you need a template, we can email you everything you need. Some customers prefer to email their artwork to a Specialist. This method also works, however, keep in mind, some files are quite large for email programs, and may transfer easier through our FTP via website or through a Dropbox account.
Our professional artists will receive and modify your artwork to fit within the parameters of the products you have purchased. When the design is finished, they'll ask for your final approval. Once you sign off on the artwork, your order moves on to our services area for production.
In as little as three days, our service technicians produce your Event Badge in the quantity you requested, plus assemble any add-ons such as lanyards. After that, pc/nametag ships your Event Badge order to you or directly to your event.
And when it's show time, your attendees will wear an original Event Badge, designed by you, but facilitated and produced by pc/nametag down to your last detail. Not only will it set the tone for the event, but also serve as a memento of your attendees' experience.