With only two and a half weeks left in 2019, you might be breathing a sigh of relief since a year's worth of successful events are over, and you're taking time to destress before 2020 unfolds. It's not a bad time to stock up on supplies or take stock in what went well and not so well. You may have New Year events right around the bend, so your planning is full steam ahead!
Either way, you've probably experienced all kinds of challenges as a planner, everything from event-crashing attendees to speaker cancellations to power outages. When it comes to name tags and registration supplies, it's been our 40-year mission to help you execute a seamless event check-in and contribute to your attendees' memorable experience. Part of helping you is reacting to your concerns with throughly tested solutions and often times knowing what you need before you even know it.
Here are six event challenges and their solutions -- just some of the exclusive products we launched this past year.
Challenge: How can an attendee network effectively when nobody can see her twisted, spinning name tag?
Solution #1: The Bevl Lanyard.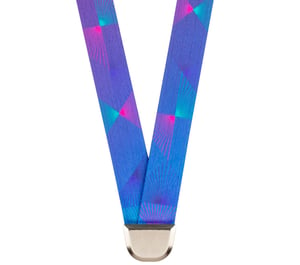 Lanyards that flip, twist or spin – it's the number one problem planners ask us to solve. Our Bevl™ Lanyard is the third and newest member of our no-twist family of lanyards. After lots of ideas, prototypes and wear testing by customers like you, we engineered a single-point-of-contact attachment instead of the typical double attachments to prevent name tag twist.
Like its predecessor the Pillar™ Lanyard, the Bevl is refined yet understated, its smoothly sculpted metal attachment keeping the name tag front and center for easier introductions.

Challenge: With everything you have on our plate, there's very little time if any to prepare badges pre-event.
Solution #2: On-Site Registration Event Badge.
Our On-Site Registration Event Badge creates a stress-free, streamlined approach to badge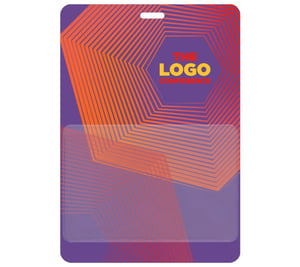 printing. For attendees, it's branded, secure and personalized--the kind of credential they'll keep as a memento of your event. But for you, the planner, it's an organized, efficient on-site badge system that begins with your customized Event Badge equipped to hold a name tag insert. All you do is print the insert containing the variable data on-site as the attendee arrives and slip into the front of the badge.
Besides saving time and money, you'll never need to finalize last-minute attendee lists, organize and alphabetize name tags pre-event, endure long registration lines and require additional staff. It's your answer to a seamless event check-in!
Challenge: Attendees need a place to keep their essentials so hands stay free, and you need ample real estate to maximize your brand.
Solution #3: The Billboard Neck Wallet.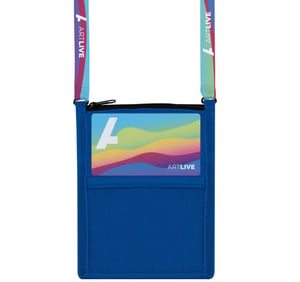 The Billboard Neck Wallet includes the benefits of a secure wallet that shouts your brand with a full-color front and lanyard. It's similar to sandwich boards or human billboards worn in the 19th century (and still today) as an ideal way to grab immediate mass attention. Thankfully, the Billboard Neck Wallet is much more convenient and comfortable for attendees to wear through a bustling convention hall.
Like all of our neck wallets, this one holds your essentials such as credit cards, room keys, cash, etc., in a zippered pocket so hands stay free to pick up giveaways, packets, a beverage, and also shake hands with fellow attendees. It's made of canvas, the preferred fabric for durability and styled with a front panel and choice of a satin poly lanyard for full-color imprint or poly lanyard (that matches wallet color) for a 1-color imprint.

Challenge: How do planners promote authentic engagement at events?
Solution #4: The Pronoun Ribbon Pack.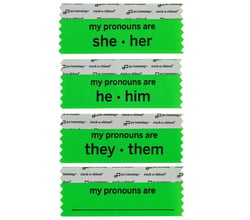 As the inventor of the stack-a-ribbon(R), we're proud to introduce an inclusive product that works to normalize gender identity in social settings with appropriate ribbon titles. The Pronoun Ribbon Pack contains 100 ribbons divided into 25 each of the following four titles: my pronouns are she/her, my pronouns are he/him, my pronouns are they/them, my pronouns are ____________.
Also, as part of the on-trend self-narrative theme, we offer the "Be" Ribbon Pack which contains direct, socially relevant titles like "Become Change" and "Fearless," inspiring attendees to express their true selves through name badge flare.

Challenge: Badge ribbons can cause disarray at the event table after attendees forage through them.
Solution #5: Rotating Ribbon Walls.
These customization stations are as popular as the office water cooler. Our Rotating Ribbon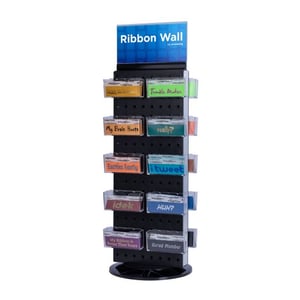 Walls (Tabletop and Floor sizes available), allow the planner to organize their stack-a-ribbons in one place where attendees can ponder over titles and messages while chatting and laughing with other event-goers. Even before attendees make their choices and add them to their name tag, they're already breaking the ice and creating conversations. The double-sided peg board accommodates acrylic pockets that hold standard-sized badge ribbons, or hooks for lanyard display.

Challenge: You need on-demand printing that's affordable, easy to follow, and from a name you can trust.
Solution #6: pc/nametag Thermal Printers.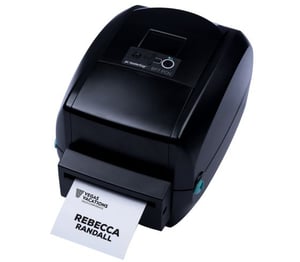 With four decades of exceptional customer service and robust technical support, we offer our pc/nametag Thermal Name Tag Printers for a seamless on-site check-in at very affordable prices.
We chose these direct thermal printers to wear our name because we know they'll be the hardworking, no-nonsense sidekicks at your registration table: they're portable, easy to set up requiring few if any accessories, and print great name tags fast -- one per second!
But the best part about these printers is how we tailored them for you the planner. We provide custom Nametag Design Software with instructions for printing name tags easily, plus we made sure both printers are compatible with our exclusive fanfold direct thermal paper stock.
These six event challenge/solution-driven supplies are just a handful of the exclusive products we offer. We're lucky to have such exuberant customers in the event profession who share ideas, field-test prototypes, and give us opinions about anything badge-related. Your enthusiasm fuels our mission to make your job as a planner easier and your events a success!