If you've ever organized a green event, you know it takes some extra planning upfront, but that it can be highly rewarding for both planner and attendees. What could be more gratifying at an event than learning new things and meeting new people, all while collectively helping the planet?
Rather than give you lots of shocking statistics to illustrate the waste caused by the meetings and events industry, Event Manager Blog explains, "Event footprints are a bit like fingerprints. Each one is unique. And, the best way to know your event footprint is to measure it." For curiosity's sake, they do offer stats on the average waste for a three-day, 1000-person event being the equivalent of four compact cars or six tons.

That staggering amount provides just a snapshot of the huge impact meetings and events have on the environment.
Sustainable Events Come in All Shapes and Sizes
When looking at hosting a sustainable event, you should consider all of your environmental touch points and factor them into the planning process. This will help minimize your event's carbon footprint.
Some event professionals have the capacity to plan zero waste or no trace events that. They develop an sustainable event policy, train staff and educate attendees with their eco-procedures, construct bins for recycling, compost and much more.
You may not have the bandwidth or resources for such an extensive policy, or your meeting may be much smaller – yet you want to do the right thing. A great place to start communicating your eco message is with the attendee badges.
Sustainable Event Badges
The three R's of waste hierarchy are the widely known principles for a sustainable life and planted in our heads as early as preschool through songs and play, so that we grow up to be conscientious citizens of the Earth. Naturally, we follow the three R's when developing anything eco.
"Before we create an eco product, we make sure it falls into one if not all three of the R categories," explains Jayne Martinson, product development and merchandising manager.
After lots of R&D, Jayne and the product team are excited to unveil our Eco Event Passes, both which are made of recycled materials and can be recycled post-event.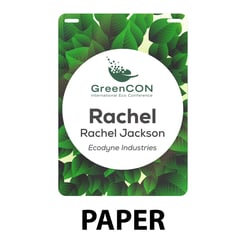 The Eco Event Paper Pass is a durable, non-laminated 10 mil paper card made with 10% reprocessed fiber. Its 14 mil plastic counterpart is a sturdy tear-proof pass derived from 40% production waste.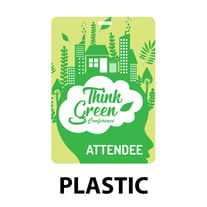 It's also non-laminated but has a double-sided matte finish that's water-repellent making it ideal for indoor or outdoor events. Like our Event Badges, these passes allow for full-color printing on front and back.
And, to create an eco-ensemble for your attendees, consider pairing either of these passes with our Recycled Lanyard which they'll never believe is made from 100% recycled soda bottles; the fabric feels so smooth to the touch while wearing a crisp, full-color imprint.
1200 Eco-friendly Promotional Products Available
Jayne emphatically points out that many of our products, both commodity and exclusive, feature eco-friendliness. For instance, Paper Name Tag Inserts that are recycled 100% post-consumer content are just as professional and bright white as our regular inserts.
Or, our best-selling Flex Name Tag Organizer which not only reduces its shipping footprint due the compact travel design, is also made of plastic PET and can be recycled after many uses.
Now it's leaner to go greener.
While we've offered green products for over a decade or so, as awareness grows of the effects humans have on the planet, more people including your event stakeholders are calling for better practices and better eco-friendly products.
"Based on industry demand and growing consumer expectations, we researched and tested several substrates before we launched our green certified paper and recyclable plastic passes," says Craig Erickson, product development manager.
"Simultaneously, our suppliers are coming up with more innovative substrates and materials, bringing the cost of producing eco products down, so events can be cost-effective and sustainable," he adds.
According to pc/nametag Sales Manager Kindra Evans, the excitement about our passes at recent trade shows was palpable.
"Planners stopped by and one after another asked, 'What do you have for eco?' and I was so excited to show them our Eco Event Passes," she says. "There's no greater feeling than knowing we're supplying them with well-tested, authentically green products."
Recommended Reads: