We talk with planners every day. And, our founder was a certified meeting planner. So we know how exhilarating, albeit stressful orchestrating an event can be. Since you're tackling 100s of tasks before and during the event, we've made it our mission to take care of the planner's smallest big detail – the name tag.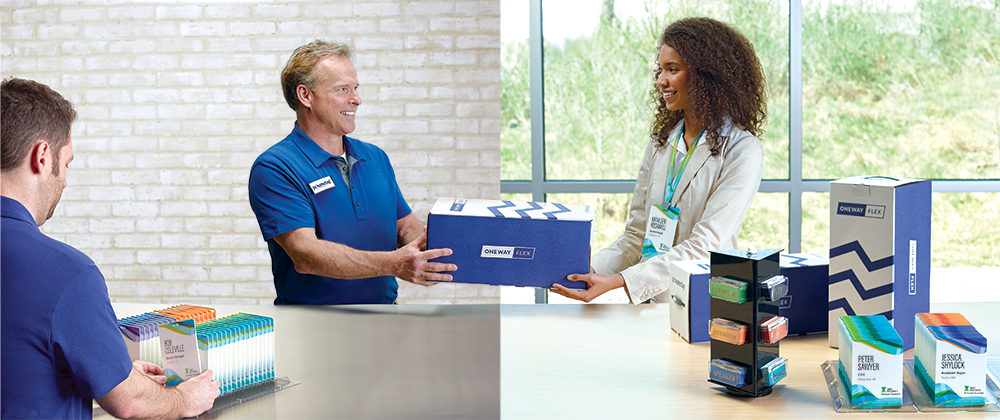 Besides advanced digital printing for name tags, registration materials and signage, plus on-staff artists and print specialists overseeing every job from start to finish, we also hand assemble and organize your name tags, even ship them directly to your event. We call it Namebadges to Go®, and it requires the expertise of assembly technicians, Jane Boebel and Lisa Lillie.
Once printing is complete, the name tags are handed over to the assembly team, along with a check list containing all the order instructions. Typical orders ask for stuffing name tags into holders or pouches, including badge ribbons and/or raffle tickets, and adding magnet attachments or lanyards to the name tags.
When it comes to requests, the sky's
the limit.
Customers can be very specific and include directions about "traying" the badges backwards. (Trays are part of the Oneway™ Name Tag Organizers, a great way to ship name tags, then organize and display them for the registration table.)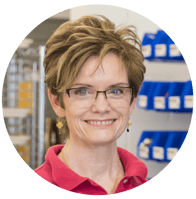 "They require name tags go right to left, instead of left to right. Or, go back to front instead of front to back," explains Lisa (left image), whose worked in assembly for almost four years. "I even received a diagram from a customer showing exactly how she wanted the name tag tray to be set up."
Obviously, many of our customers know precisely what works for them. "If they have their registration area set up a certain way, then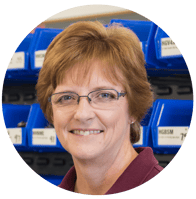 they want their tags a certain way," says Jane (right image), lead service assembly technician for nearly 13 years.
One of her most unusual requests was to attach gold stars to the bottom of each name tag representing the number of years each employee worked with the organization. Hundreds of name tags and thousands of gold stars later, Jane's keen eye for detail and the team's unwavering drive for precision keep those particular customers coming back year after year.
Orders for two badges or 40,000 receive the same white glove.
"With our made-to-order business, every request is unique. We scrutinize every badge that leaves our facility, since each one reflects directly on our customer. The event begins with the name tag, and if the attendee has a positive experience, then the customer will also," explains Matt Nick, director of operations.
The real challenge for this team of perfectionists is not keeping up with the endless variety of requests, but rather juggling many assembly jobs, sometimes 40 to 50 per day, up to 60 during peak meeting times of the year – February thru April, September and October. That's when three to four temps join the team. And, the entire pc/nametag staff takes rotations in the assembly area to ensure those multiple orders of 1,000-plus name tags are shipped on time and as expected.
"Jobs that big require lots of planning ahead, especially if five to 10 rush jobs show up that must go out the same day," says Jane.
"No" doesn't exist in the pc/nametag vocabulary.
We have the resources and capabilities to complete most orders, but if we don't, we research and find a way to get the job done exactly the way the customer wants it. And, when 25% of our orders are rush (less than the typical three-day production time), both print and assembly teams go into overdrive to meet the planners' deadlines.
The teams are also familiar with the back and forth of last-minute changes that inevitably occur before an event, so they pull orders from shipping to incorporate the revisions; they reprint, reassemble and reship -- no matter what stage of production the job is in. Even a service tech has been known to personally drive revised orders to Fed Ex across town to ensure they arrive at their destination on time.
Matt is proud to report that the assembly team stuffed over ½ million name tags so far in 2018, as well as attached ribbons, lanyards and adhesive pockets to another ½ million badges.
After assembling 14 million name tags and counting, Jane feels a real sense of accomplishment. "I love the feeling of completing a job and knowing that the meeting planner will have a well-organized presentation for their registration area, and that we've made their job a lot easier," she says.


Consider us your concierge of name tags.
Learn more about our Custom Services.