Like so many other inventions, it started with a simple problem. How do we help meeting planners identify their conference VIPs? The initial vertical ribbon solution worked, but, there was a laundry list of buts:
• Space along the bottom of the name tag was at a premium.
• Multiple ribbons got cluttered.
• Limited contact space meant ribbons fell off mid-meeting.
Things just weren't working out well in the world of recognition. And a whole new line of thinking was needed.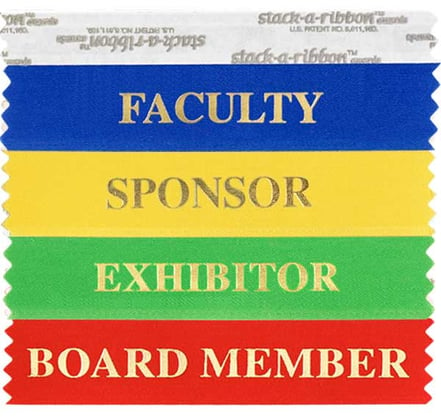 Turning conventional thinking
on its head – or on its side.
While others had noticed the problem, it was the founder of pc/nametag, a certified meeting planner, who was inspired to find a solution. The story goes that an attendee was wearing a name tag with no less than 10 standard ribbons sprouting off the bottom like turkey feathers and so overlapped that the information on each ribbon was unreadable. Once back in the office, he began to sketch ideas for other ways to attach ribbons. He turned the sketch on its side, grabbed a name tag and a revolutionary idea began to take shape.
A designer executed his idea, adding a strip of tape along the top so that ribbons could be stacked without interfering with readability, and in 1995 the patent for the now ubiquitous stack-a-ribbon® was filed.


Neat, orderly, all at a glance.
With the unique stackable design of this ribbon, all the key information attendees needed to know about each other was easily readable at a glance – no need to cock your head to catch a title or honor. In fact, the convenience was so welcome, it wasn't long before attendees were asking planners for them.


Information that sticks with you.
The new design made planner's lives easier in another way as well. Because of the larger contact area, there was more room for the 2-sided tape. More tape means more stick, means less name tag ribbons all over the floor where they aren't doing attendees any good.


An ever-growing list of titles
and even custom options.
What started as a small collection of titles back in 1993 has now grown into an impressive selection of over 800 titles to quickly and easily label all your attendees. And, of course, our legendary service standard meant stock titles were only the beginning. We also offer custom stack-a-ribbons made exactly to your specifications so every meeting can have a special look and feel all its own.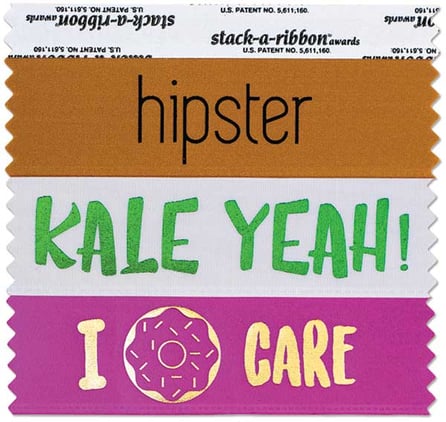 Check stackable design off list.
Now let's have some fun!
Once we solved the practical problem, we realized we had another even more important opportunity -- helping attendees break the ice and have fun! Enter our Ribbon Fun Packs. Now available in nine different collections, they let every attendee express their own unique personality and sense of humor.
And, once event-goers are relaxed and having fun, networking and socializing cranks into high gear.
Then sometimes things get really creative. Attendees have been known to engage is some spirited "one-upmanship" to see whose collection of stack-a-ribbons can grow the longest over the course of the night. And, of course, there have been a few stack-a-ribbon clothing contests as well. Needless to say, planners have learned to keep the fun rolling by having plenty of fun packs on hand!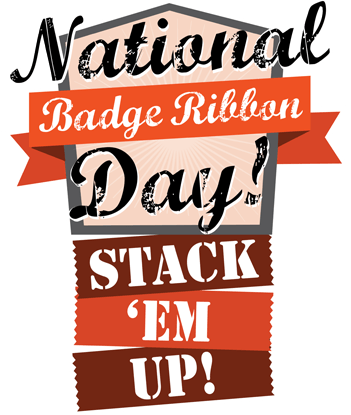 An innovation worthy
of its own holiday.
Yes, our stack-a-ribbons have made many a meeting more productive and enjoyable. Which is why every year we recognize August 18 as National Badge Ribbon Day – as noted in Chase's Calendar of Events, The Ultimate Go-to Guide for Special Days, Weeks and Months.
And we invite you to celebrate with us by posting some of your favorite ribbon pictures and stories on our Facebook page. You can also share the stack-a-ribbon fun on your social media with #NationalBadgeRibbonDay.


Feeling Creative? Enter our
stack-a-ribbon title contest.
Every year you have a chance to prove your title prowess a week or so before the badge holiday. Send us a clever, attention-getting word or phrase (under 30 characters, with spaces) that complies with pc/nametag's personalization standards. (Basically, don't submit anything you wouldn't want your grandma to read.)
Our panel of pc/nametag staff will choose a grand prize winner who will receive a $500 credit to pc/nametag and 100-pack of stack-a-ribbons featuring their winning title. Enter as many times as you would like. We will announce the winner and post contest entries on our Facebook page.
Recognizing the #1 recognition tool.
Yes, for over 20 years our stack-a-ribbons have bestowed honor, created connections, and supplied whimsy to attendees the world over. But on August 18, we turn the tables and raise our ribbons to one of the best innovations in name tag history. Well done, stack-a-ribbon!