Recent events in the music festival and meeting world have had all of us facing an uncomfortable reality: meeting security is no longer as easy as stopping gate crashers.
"As much as we might like to ignore it," says pc/nametag Product Manager Karen Pollack, "the event industry is now forced to regularly consider scenarios that were once considered nearly unthinkable: shootings, political instability, natural disasters, travel safety, even the relative safety of the area around the venue."
But while you as an event planner have a myriad of new issues to consider, the good news is, you don't have to go it alone. Karen has put together a few simple tips you can use to make every one of your meetings more secure – without compromising the comfort of your guests.
A three-tiered approach to safety.
"While Las Vegas was certainly a wakeup call for all of us," says Karen, "the reality is our security philosophy, and the products needed to implement it, have been taking shape over the past decade – and it's really become a matter of three distinct types of security."


1. Credential Security - A badge of belonging.
"People reproducing unauthorized name tags and slipping through check-in areas has always been a concern from a revenue standpoint," says Karen. "But with personal safety issues on the rise, creating a truly distinct, hard-to-copy and easy-to-spot name tag ensemble becomes even more important."

Customized badges foil the uninvited.
For a truly distinct look, Karen strongly recommends Customized Event Badges. "They're so unique, they are almost impossible to replicate on the fly," says Karen. "And we give you a plethora of options to make each badge that much more unique. We offer in-stock shapes plus unique finishes like metallic or soft touch and also holographic and spot foil additions to stop even the most determined gate crasher," she says.
There's an extra "soft" benefit to name badges as well. They really add a premium, VIP feel to a meeting that tells guests you've gone the extra mile. And when you've done that in a small area like the name tag, guests instinctively know you're taking care of other concerns as well.



Lanyards that set apart.
Just like name tags, the simpler a lanyard is, the easier it is to slip past a fake credential without notice.
"4-color Sublimation for a full-custom look or even a Neon or Two-tone Woven Lanyard will add that extra note of distinction for your guests," says Karen. "That means you can spot your attendees in a convention center – and that other attendees can identify each other and begin building rapport."

2-tone pouch means 2-way security.
"Many guests love the extra personal security of a Name Tag Pouch," says Karen. "They really appreciate having a zippered compartment to discreetly store room keys, business cards, plus cash and identification while on the show floor. That's especially beneficial in environments where carrying personal bags is not permitted. "We're seeing more venues that don't allow bags in for security reasons," adds Karen.
But the benefit goes farther for you as a planner. "When you choose a 2-tone design with contrast trim, your meeting pouches take on an identification security step for you as planner," adds Karen. "Just a quick glance from across the room can help you spot an attendee that is out of place or help attendees identify each other in a large multi-meeting center." And with over 120 color combinations, faking these name tag pouches is anything but easy.



Full-color Wristbands – a lock on access.
Need to set aside a VIP area within your meeting or give other special access? Karen has a tip. "Our Full-color Wristbands have a locking slider design that prevents them from being transferred, so once you put them on your guests' wrists, they aren't going anywhere. They're far more secure than standard peel and stick wristbands, more difficult to replicate and they look and feel great."
2. Electronic security: bringing safety into the digital age.
Collecting and protecting data is of utmost importance in the digital age. And it's also a key to increasing attendee safety. "Whenever you're collecting personal data you have concerns," says Karen, "in this case, badges with randomized barcodes, QR codes or RFIDs are the ideal solution because they don't store any personal information in the code."
Keep attendee data on lockdown.
In a modern event planning information system, all personal data can be "vaulted" in the registration system and then merged with badge tracking data when it is gathered on the floor. "That means," explains Karen, "no personal information can be swiped by an unauthorized barcode or QR reader on the meeting floor."
That's sure to ease attendees' worries of having personal information lifted, but it still lets you track participation in events. Of course, we still recommend you take system security seriously to prevent hacking -- and you need a formalized data protocol such as the European GDPR in place to manage your data.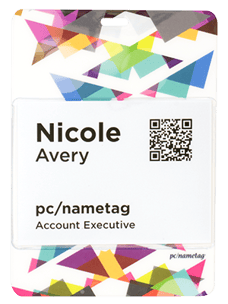 Badge replacement that won't trip you up.
There's also another benefit besides personal data security for attendees. "If for some reason an event badge gets lost," explains Karen, "you can lock out that badge and re-key a new one for that attendee. The lost badge now gets locked out of the event, but the tracking data file can be merged to the attendee's new badge."



Barcode and RFID-enabled badges and wristbands on-site.
Our advanced on-site printers allow for secure identification while attendees wait. "We've spent a lot of time finding the perfect on-site printers to give you the solution you need," says Karen. "Our pc/nametag Wireless Thermal Name Tag Printer can output black & white lettering plus barcode and QR code information onto pre-printed full-color fanfold stock. You can also generate on-site barcoded wristbands with this printer."
Looking for even more on-site function? The Zebra CZ10LFull-Color Badge Printer produces full-color badges on the fly – even badges with black & white custom agendas or maps on the backside. If you would like full-color wristbands, the Epson TM-C3500 Color Name Tag Printer uses wristband stock with closure tabs that tear if tampered with.
3. Group culture security: creating strength in numbers.
For many meeting attendees, there's nothing more nervewracking than feeling alone in a strange place. "That's why," says Karen, "we recommend taking steps to make attendees feel like a part of the group as soon as they arrive." The more distinct you can make the meeting look, the faster attendees can find fellow attendees.
"Event Signs and Banners that coordinate to the event log and name tag design, can guide attendees to the group faster," says Karen. "That makes them feel more secure and gives them confidence that they are on the right path."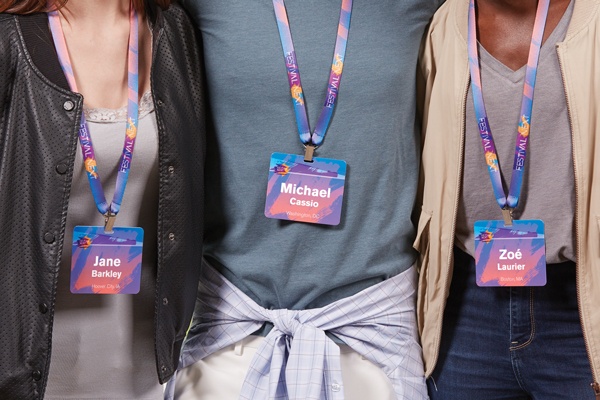 Give-away items that turn "I am alone" to "I belong."
When moving around a venue or heading out between events, subtle identifiers, from the previously mentioned lanyards to Branded Promotional Products, can help meeting attendees identify each other faster. "Studies show," says Karen, "that the more a group identifies with each other, the more likely they are to help each other out if there's a problem."
With every attendee carrying the same Bag or Notebook, or even wearing a Custom Ribbon on an otherwise standard name badge, a group identity can be forged faster.
"The old adage 'there's safety in numbers' is true," says Karen. "And just a few subtle steps can go a long way to turning a collection of individuals into a group that looks out for their own."


Looking to add a little security and flair to your meetings?
Check out our Inspiration Gallery for the latest and greatest planning solutions!