You'll find it here at pc/nametag, your one-stop shop for over 500 brandable items to choose from, each hand-selected based on quality, usability, budget, event type, and trends. Certainly the last one is paramount given consumers' ever-changing behaviors and preferences. Back in 2017, fidget spinners were hot at tradeshows. Just two years later, these tchotchkes are much less coveted.
We're guessing you're presently deep in planning mode and shopping for swag to elevate your check-in table. Or, you may want inspiration for curated gift sets you can give any time of the year to clients, executives, employees, or your hardworking staff. Either way, you've come to the right place.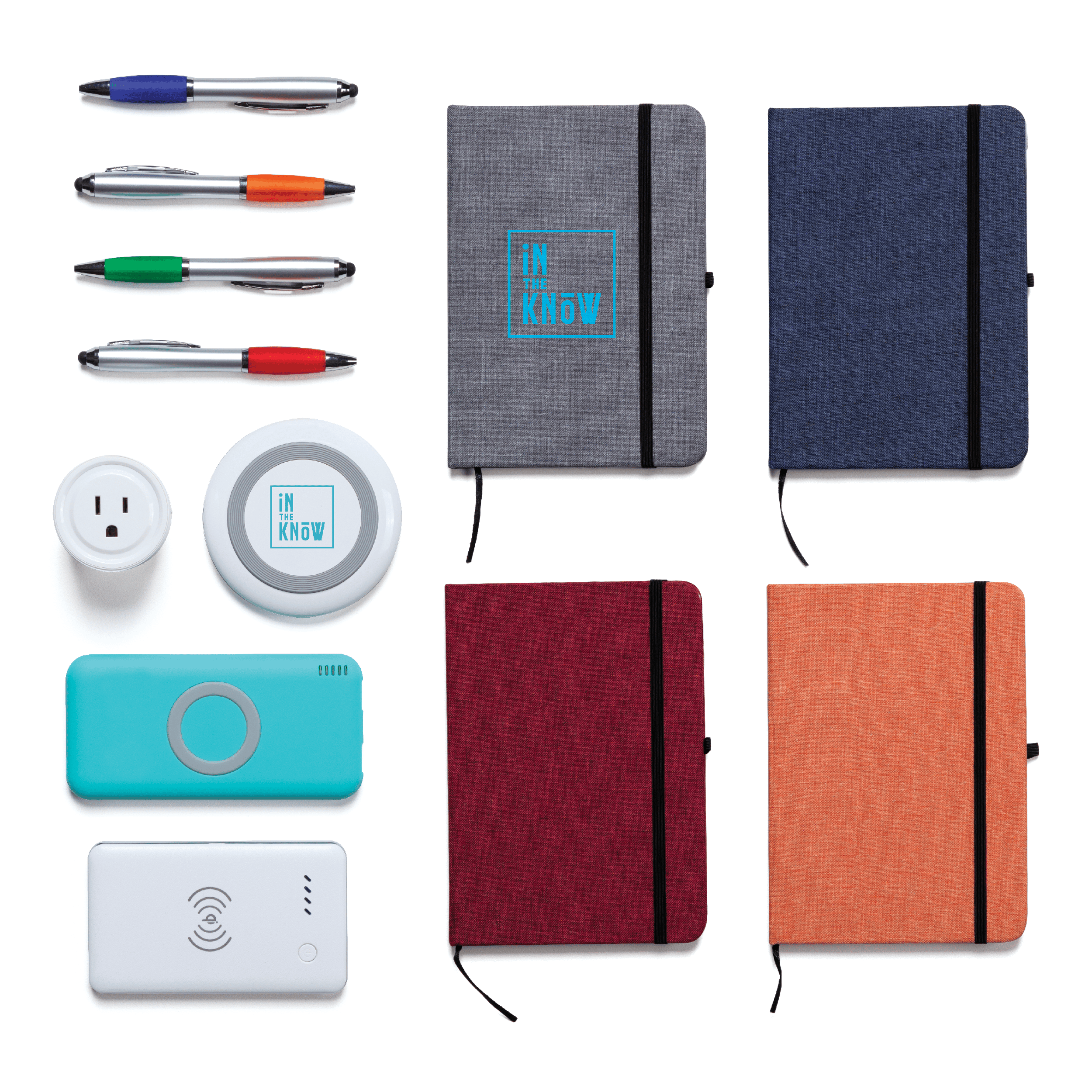 Trends for 2019 are currently a hot topic for everything under the sun.
You might have read that smart toys and pet monitoring cameras for your Boston Terrier are trending high, or that cult status oversized hats and fancy flats are going mainstream this year.
But what's trending for promotional products?
Fortunately, Stefanie McGinnis, pc/nametag product manager, had the foresight several months back to launch items that are spot-on trendsetters for 2019. "Basically, my job is to be an expert on all the finer points of promotional products from big trends to technical specs, and then curate a collection of can't-miss items that will suit any event, any meeting, any time" she says.
Eco-friendly products are steadily rising.
More and more consumers are making eco-friendly decisions by avoiding plastic water bottles and coffee cups and purchasing reusable stainless steel drinkware instead. We offer copper vacuum insulated drinkware such as 17 oz. Bottles and 14 oz. Camp Mugs with the added benefit of keeping hot drinks hot up to 12 hours and cold drinks cold up to 48 hours. Or, more budget-friendly options include the stainless Laguna 16 oz. Travel Mug or the double-walled, BPA-free acrylic Sedici Tumbler with straw, also in a 16-oz. size.
Wireless technology maintains a strong lead.
This trend from 2018 continues into 2019 and will likely progress exponentially each year with technological advancements. According to the 2016 Global Advertising Specialties Impression Study, a promotional product is kept for an average of eight months, with mobile power banks being used for 12 months. Our Qi Wireless Charging Power Bank supports wireless charging of most smartphones and tablets.
If you want to offer the convenience of charging smartphones without any cables, the Quake Wireless Charging Pad is a great option, too. Both are handy accessories for traveling attendees. And, customers are impressed with the Fortune Fabric Bluetooth Speaker for its exceptional sound, contemporary design, and Bluetooth working range of 33 feet.
Unique colors and patterns make your brand stand out.
Promo products in aesthetically pleasing colors, textures and patterns are bound to attract potential customers to your booth. While purple was the color of 2018, colors like bright coral, electric blue and cherry red are popular for 2019. You'll find those colors and more represented in our stainless steel, vacuum-insulated cups and tumblers.
Look for smooth metallic textures showing up in tote bags such as our Alloy Laminated Shopper Tote with its trendy all-over metallic finish, the Metallic Shopper Tote with metallic accents, or the Mini Metallic Bottom Laminated Tote. And, for a natural look, consider the Medium Jute Gift Tote, constructed of woven jute fibers. You'll also find notebooks with interesting on-trend textures like the Heathered (canvas) Bound Notebook or Marble (screen print) Notebook.
Fitness and wellness products are always on-trend.
"Everyone has the best intentions of keeping their New Year's resolutions, and we have exercise kits to keep their momentum going," says Stefanie. The Simply Fit Jump Rope Kit includes a water bottle, earbuds, jotter, and jump rope. Or, the Cobra Fitness and Yoga Mat slips into included cinch pouch with adjustable strap so you can slip over your shoulder as you head to pilates class.
To keep hydrating all day long, we also have the 24-oz. Easy Squeezy Sports Bottle made of a polypropylene material that's BPA-free, Phthalate-free, Lead-free and Non-toxic. And for carrying workout accessories to fitness class, there's always the Rivers Drawstring Sportspack.
Stefanie handpicks gifts so you don't have to.
If you're looking for gifts to recognize special guests, event speakers, or valued customers, think of Stefanie as your personal gift consultant, because you need to focus on what you do best -- event planning. Stef spends extra hours collecting items that are industry trends, customer favorites, highly functional, well-designed and of course, very good looking.
These unique gifts are a great way to express appreciation to those who work an event with you or work hard all year long. Add a personalized touch with a 1-color imprint of a logo or name. Or, choose a gift set that comes in a durable, contemporary designed gift box. You can also order customizable satin gift ribbon for a pop of color. Any of our gifts, including those that are customized, are ready in one day.
As any savvy event pro knows, branded promos are an easy, effective way to spread the word about your organization, product or service. Every promotional item we offer can be easily customized with a logo, company name, branding message or tagline.
Attendees take home the free umbrella, memory bank or tote bag and from there, each product's destination is unknown; some stay in one place while others journey to different locations, leaving your brand's lasting impression along the way.
So no matter the product you choose or the branding message you transmit, our goal is to make your product look better than you ever imagined it could – and with less hassle and trouble than you ever thought possible.
"We know exactly why event planners turn to us for name tags," says Stefanie. "And what we've done for name tags with our expert consultation and customized service is what we're doing with our promotional products."
Loads of promos!
Shop our largest selection of promotional products ever.